Why Stop Now?
(2012)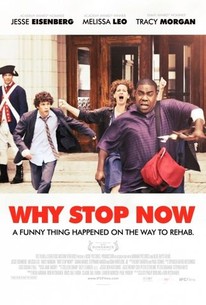 Movie Info
Eli (Jesse Eisenberg) is a piano prodigy. Today is the audition that will determine his future-- will he launch a career and take off into the world? Or will he stay stuck, caring for his sister and mother (Melissa Leo) who, despite her cheerful, loving disposition, is a drug addict. The only obstacle to a seamless transition into his future is dropping off Mom off at the center where she will enter rehab, but a glitch in the system forces sends them off to enlist the help of an unlikely ally, her drug dealer Sprinkles (Tracy Morgan). The day spirals downhill quickly, and the hapless team must collaborate every step of the way to battle their own demons and get Eli out of the rabbit hole. -- (C) IFC
News & Interviews for Why Stop Now?
Critic Reviews for Why Stop Now?
Audience Reviews for Why Stop Now?
½
You must excuse Eli(Jesse Eisenberg) for being late to his audition. You see he has had a tough last 24 hours that began with him getting drunk at a jock party he crashed the night before. The following morning he gives a ride to his mother(Melissa Leo) to a rehab clinic. Except in a bit of logic that would make Joseph Heller smile, they will not take her because she currently tests clean for drugs. So, Eli has to get drugs from local drug dealers Sprinkles(Tracy Morgan) and Black(Isiah Whitlock Jr.). And before he knows it, Eli is their new translator. "Why Stop Now" has certain things going for it like a neat cast(Sarah Ramos proving that 'Parenthood' was no fluke) and a tried and true comedy premise that should work. Except it really does not. Apparently, there is only so much mileage one can get out of putting Jesse Eisenberg into jeopardy. Along those same lines, it is the kind of situation that the television series 'Mom' succeeds at every week. In other words, it is always a good idea to rely on professionals for writing and directing your comedy needs, else you could just end up with a whole bunch of random bits(like the reenactors) and a resolution that is more than a little preachy.
♥˩ƳИИ ƜѲѲƉƧ♥
Super Reviewer
½
A funny thing happened on the way to rehab. Decent Movie! It's really a movie that is mostly being carried by its characters and the actors who are portraying them. It might seem like an odd choice for Oscar nominated and winning actors such as Jesse Eisenberg and Melissa Leo to be in this little film but I can definitely see why they wanted to be in it. It's simply being a true actor's movie, in which they are truly able to shine, without having the pressure of a big budget and high expectations and Hollywood producers constantly breathing down their necks. The movie overall is nothing special but it is entertaining and if you are looking for a mindless movie to put in and enjoy then this is a decent choice. The story of Eli Smith (Jesse Eisenberg), a piano prodigy, dealing with his troubled mother, Penny (Melissa Leo), and enlisting help from a hapless drug dealer, Sprinkles (Tracy Morgan), on the day he has an audition for a prestigious music program. Events spiral comically out of control as this gang of misfits faces the mistakes of the past, the challenges of the future, and the possibilities of love.
Why Stop Now? Quotes
There are no approved quotes yet for this movie.