Wicked Little Things
(2006)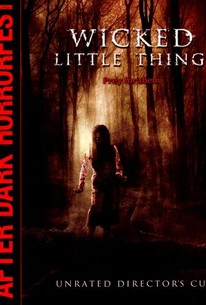 Wicked Little Things Photos
Movie Info
The Forsaken director J.S. Cardone returns to the helm for this tale of a widowed mother of two who discovers a dark secret about the land surrounding her newly inherited mountain home. When her husband died and Karen Tunny inherited his family's remote mountain estate, she never could have foreseen the terror that was about to be unfold. It was 1913 when a tragic mining accident claimed the lives of numerous children who were forced to descend into its darkened depths, and their restless spirits are still rumored to roam the area around the sprawling home. Now, as Karen and her two young daughters attempt to pick up the pieces of their shattered family life, the dark history of the land deemed cursed by the fearful locals stumbles screaming into the glowing moonlight of the present as the children who were once buried alive come out to seek revenge.
News & Interviews for Wicked Little Things
Critic Reviews for Wicked Little Things
Audience Reviews for Wicked Little Things
It was okay. Not as scary as I thought it would be. I wouldn't recommend to watch it though.
Dead Angel
Super Reviewer
½
I was excited by the trailer, but the actual film left me disappointed. The bare minimum of a plot and a lack of any real scares or suspense hobbles this movie.
½
'Wicked Little Things' was annoying. After banging my head, to no avail, against my LCD monitor (perhaps thusly the ineffectiveness) for two days, that is really all I can say about this movie. The production, cinematography, and acting values are there but the story is too weak and illogical to match the 'effective scare' this movie is going for.
To zombie fans, file this under the "ghoul" category with "Creepshow" as these undead kids are conscious little buggers hellbent on revenge for the awful fillicide they endured in the collapsing mines.
The leads are played well, and sometimes the makeup is effective. The lighting is pretty much 75% on, so why wasn't I that thrilled? Because the execution of the story was poor, and again another zombie flick falls short.
_kelly .King
Super Reviewer
Wicked Little Things Quotes
There are no approved quotes yet for this movie.