Wicker Park
(2004)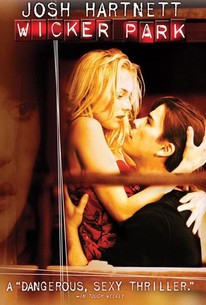 Movie Info
Directed by Paul McGuigan, Wicker Park follows Chicago businessman Matthew's (Josh Hartnett) return to Windy City life after having dedicated two years of his life to mourning his long lost love Lisa (Diane Kruger), who'd mysteriously vanished from his life. Things are finally looking up again for Matthew; his career is in full swing, and he's thinking of becoming engaged -- that is, until he thinks he's spotted his former lover in a restaurant. Almost immediately, Matthew puts the brakes on his marriage plans and his career in order to conduct an exhaustive search for his old flame. Obsessed, he barely notices the psychologically devastating trap his quest is leading him into -- a danger that only grows when he meets an enigmatic stranger (Rose Byrne). Wicker Park features Matthew Lillard and Jessica Paré in supporting roles.
Critic Reviews for Wicker Park
Audience Reviews for Wicker Park
The character Alex states, "Love makes you do crazy things, insane things..." and that statement in a way summarizes this tale of love and obsession. Set in a cold, snowy Chicago winter, Wicker Park is about the lying and deception at the heart of obsessive relationships. It's about the lengths the characters will go to in order to pursue love at first sight. This film is hard to follow at times; the viewer has to wait patiently for explanations, and whether the payoff is worth it is debatable. I enjoyed the film for the most part, though it's not without flaws. Josh Hartnett's character is completely smitten, obsessed with Diane Kruger's character, which I understand-I've loved her since the first time I saw her. Hartnett is competent at playing awkwardly shy yet tenacious, but I would have liked to have seen an actor more capable of emotional depth. Matthew Lillard, too is miscast. He plays Hartnett's goofy friend, and he's a better actor than Hartnett but he wasn't right for this. Rose Byrne's Alex is the most interesting character, and she's the most convincing actor. Appropriately she wears a mask during her Shakespeare performance within this film, just as she figuratively wears a mask-perfect symbolism. The movie culminates in an insane coincidence-fest at a restaurant, and the ending is corny as well. It is Hitchcockian, this series of coincidences about desperation and obsession. To borrow a line from one of the characters, it's both creepy and hot. Although I'm not a sucker for love stories, I couldn't turn it off, so I give Wicker Park a qualified recommendation.
Clintus Maximus
Super Reviewer
Have actually upped my rating to 4 stars from 3 1/2 - very unusual for that to happen - usually the other way round!! I can't really remember watching this the first time.... well, only vaguely... though I guess I must have as i have the dvd in my collection. Really enjoyed this the second time around, as I couldn't remember it too well at all, I had forgotten all the twists, so it was still a surprise rewatching it. I found this very well done - the filming is quite stylish, the cast really good (maybe with the exception of Matthew Lilliard who I can never quite take seriously, but he plays a bit of a joker as usual anyhow, so I could wear this one). Josh Hartnett very convincing and works really well with Diane Kruger as Lisa - found them both really enthralling here. Quite an erotic film without being overly graphic. Rose Byrne I also found quite sympathetic - won't say too much about her character here! Above average thriller, nice to look at, and never lags or gets dull. Enjoyed this a lot!
Nicki Marie
Super Reviewer
½
I don't know, either you're on board with Wicker Park or you're not. I think you have to look past its definite shortcomings to wring out the quality: for Josh Hartnett's stony, inarticulate performance and Matthew Lillard's completely inappropriate casting, you then have Diane Kruger and Rose Byrne, both excellent in their roles. Byrne especially does fantastic work with the least screen time of the four; she shows up late and to say much would be a spoiler, but she really digs into every angle of the character and presents some interesting complications in the story. For every time the soundtrack features some God-awful rock song highlighting a "torrid" sex scene, it'll find an inventive and challenging combination like a modern dance sequence set to Mum, or a lonely stroll through the park scored by Broken Social Scene. And considering how convoluted and ultimately kind of silly the plot gets, it's surprising that it offers up such an understated look at love versus obsession, and how effectively it blurs the line sometimes. I wasn't really aware of the world around me when this came out but I imagine it was marketed pretty heavily as a typical thriller. In that regard, it's an utter disappointment; the worst that could possibly happen to poor Matthew is being trapped in a moderately uncomfortable corporate marriage. If the stakes don't seem higher, I think that's partially Hartnett's fault, because he just doesn't sell much to me in the scope of this movie. I think that this falls in the same category of film as Enduring Love, where the sum is worth more than its parts and everything seems to gel despite itself. Something you'd watch once, dwell on fondly and never come back to. Which is good, but really, this film could have been better.
Drew Smith
Super Reviewer
Wicker Park Quotes
| | |
| --- | --- |
| Matthew: | I'm going to China tonight, I'm practically engaged-- do I need to remind you? |
| Luke: | The lies we tell ourselves. |
| | |
| --- | --- |
| Luke: | So she had the same name, same perfume, same shoe size. That's so hot. Or, or maybe that's just creepy. |
| Luke: | So she had the same name, same perfume, same shoe size. That's so hot. Or, or maybe that's just creepy. |
| Matthew: | I think it's a little bit of both, actually. |
| Matthew: | I think it's a little bit of both, actually. |
| | |
| --- | --- |
| Matthew: | Things don't have to be extraordinary to be beautiful. Even the ordinary can be beautiful. |
| | |
| --- | --- |
| Alex: | You want a cup of coffee? |
| Matthew: | Yeah, sure. Thanks. |