The Widow of Saint-Pierre (The Widow of St. Pierre) (La veuve de Saint-Pierre)
(2000)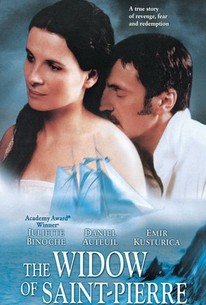 The Widow of Saint-Pierre (The Widow of St. Pierre) (La veuve de Saint-Pierre) Photos
Movie Info
Long-established director Emir Kusturica makes his acting debut in Patrice Leconte's 19th century tale of a loyal, strong-willed woman who follows her soldier husband to a desolate French territory off the coast of Newfoundland. Madame La (Juliette Binoche) lives in marital bliss on the island of Saint-Pierre with her loving, oddball husband (Daniel Auteuil), simply called "the Captain" by his charges. Their world is upset one night, however, when two visiting sailors on a bender murder a local citizen. Neel (Kusturica) is sentenced to death, but the other one dies in a carriage accident before reaching prison. As the island waits for a guillotine (or "widow") to be shipped from the French government, Madame La does her best to convince the townspeople that Neel is genuinely good of heart and doesn't deserve a bloody fate. La Veuve de Saint-Pierre marks the second time that Auteuil has worked with director Leconte: their first effort, La Fille Sur la Pont, earned him a Best Actor award at the Cesars, France's equivalent to the Academy Awards. La Veuve screened at the 2000 Cannes and Toronto film festivals.
Critic Reviews for The Widow of Saint-Pierre (The Widow of St. Pierre) (La veuve de Saint-Pierre)
Audience Reviews for The Widow of Saint-Pierre (The Widow of St. Pierre) (La veuve de Saint-Pierre)
An affirmation of the complexity of women. Here, a guard captain's wife campaigns for the life of a condemned man, knowing that her actions threaten her husband's career and possibly endanger his life. Perplexing behavior indeed but director Patrice Leconte uses it to full effect, adding humanistic elements to what otherwise could have been a listless period piece. An intelligent, insightful film.
Randy Tippy
Super Reviewer
½
Neel Auguste ( Kusturica) is condemn to death for a murder on the little island of Saint-Pierre, which was, a territory of France. The guillotine( Veuve) is the instrument of death in France at that time. But the island doesn't have its "Veuve" and one is to be sent from Martinique. In the waiting, the convict is kept in prison at the captain's ( Daniel Auteuil) residence. The captain's wife (Binoche) is convinced that the murderer deserves a second chance and she's working towards that goal. All the performances did a great job, especially Juliette Binoche and Emir Kusturica. Their chemistry is shown so real and keeps the viewer hooked to see what will finally happen.
Daisy Maduro
Super Reviewer
A dark, passionate tale of a woman who sets out to redeem a convicted murderer. She succeeds, but at what cost to herself, to the convict himself, and to the colony of St. Pierre? Juliette Binoche is, as usual, radiantly beautiful, compassionate, and firey as the Madame La. Daniel Autiuel plays her husband, La Capitain, as a principled man who throws caution to the wind because of his love for her. A bleak, cold landscape, properly pompous civil authorities, and the squalor of life in a far outpost of the French Republic all gave the film an authentic feel. This viewer hoped for goodness to win out, but expected tragedy, and was not disappointed. Always four stars for Ms Binoche!
Mark Abell
Super Reviewer
The Widow of Saint-Pierre (The Widow of St. Pierre) (La veuve de Saint-Pierre) Quotes
There are no approved quotes yet for this movie.