Wife vs. Secretary
(1936)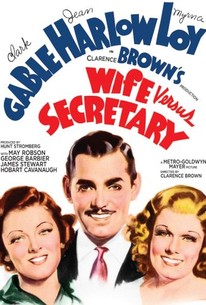 AUDIENCE SCORE
Critic Consensus: No consensus yet.
Wife vs. Secretary Photos
Movie Info
Beautiful Helen "Whitey" Wilson is secretary to magazine publisher Van Stanhope. Van's wife Linda doesn't mind a bit... that is until Van's mother plants the seed of doubt.
News & Interviews for Wife vs. Secretary
Critic Reviews for Wife vs. Secretary
All Critics (3) | Fresh (2) | Rotten (1) | DVD (1)
Everything in this picture - people, clothes, interiors - is as beautiful and eyefilling as possible, but the story seemed to me to be fairly unexciting.
It's a star vehicle with Clark Gable, Myrna Loy and Jean Harlow, that's filled with old-fashioned Hollywood gloss.
Audience Reviews for Wife vs. Secretary
½
This movie is loaded with star power - Jean Harlow, Clark Gable, Myrna Loy, and wow, even a young Jimmy Stewart. The story is straightforward - Gable is an executive, Loy is his wife, Harlow his secretary, and Stewart, Harlow's boyfriend. Harlow is incredibly helpful to Gable and works long hours with him, thus prompting rumors, but the two are absolutely innocent. Eventually Loy and Stewart get jealous of the time the two are spending together, and are concerned the two are having an affair. I have to say, for a good part of the movie, it seemed reasonably good but somewhat false - the chemistry between Gable and Loy is just "ok", and the straight and narrow course Gable and Harlow take and the overall message of needing to trust in one's relationship seemed somehow influenced by the Hays Code to me. On the positive side, both Gable and Harlow are in roles outside of their usual typecasting, including Harlow with her natural hair color. Harlow also stands up to Stewart's requests that she quit her job to focus on family (hooray especially for 1936!), and Harlow confronting Loy and ultimately sacrificing herself is a good scene. And, on top of all that, the very best scene is between Gable and Harlow, after they've been drinking in Havana following closing a deal they had worked on over sleepless nights. Innocence aside, there is a moment of truth when she's in the same hotel room in the wee hours, untying his shoes. Their conflicted stares are priceless and communicate brilliantly without words, until Harlow says at last "we've had an awful lot to drink". That scene alone makes the film worth watching, and shows Harlow's ability and potential to grow even further. How sad she would die the following year at the age of 26! As for this film -- the script is good, not great, but the screen presences here surely are.
Antonius Block
Super Reviewer
½
A normal drama of a suspicious wife and her husband who may or may not be cheating. It's predictable and boring, but the acting is good.
½
Generally obvious with a good cast. Myrna Loy is so cute in this movie it actually hurts. The star power is the only thing worthwhile in a tale of jealousy and workaholics. The supporting role from Jimmy Stewart made me kind of sad--namely the scene towards the end where he calls Harlow. Wife Vs. Secretary isn't the slapstick comedy I was expecting, but worth watching if only for the cast and set design.
Michael Gildea
Super Reviewer
Wife vs. Secretary Quotes
There are no approved quotes yet for this movie.