Wilbur Wants to Kill Himself
(2004)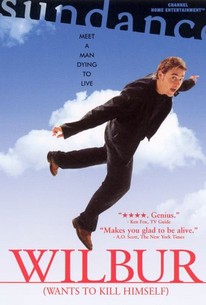 Movie Info
Danish filmmaker Lone Scherfig, the writer and director of the 12th Dogme 95 film, 2000's critically acclaimed Italian for Beginners, presents this comedy drama starring Jamie Sives and Adrian Rawlins as brothers Wilbur and Harbour. When their mother died early in their lives, it became up to Harbour to keep tabs on Wilbur, the younger and chronically depressed of the two siblings. Now in their thirties, their father has passed away, leaving them to take over the family's used book store. It is there that they encounter Alice (Shirley Henderson), a hospital janitor who sells the books that patients leave behind, and her young, optimistic daughter, Mary (Lisa McKinlay). Together, the four form a bond that changes each of their lives, with Harbour falling in love with Alice and Mary's sunny demeanor giving the suicidal Wilbur a reason to live. The first English-language effort from Scherfig, Wilbur Wants to Kill Himself was nominated for best film at Denmark's 2003 Bodil Awards.
News & Interviews for Wilbur Wants to Kill Himself
Critic Reviews for Wilbur Wants to Kill Himself
Audience Reviews for Wilbur Wants to Kill Himself
Well, this was definitely a surprise! Dark, yes. Comedy, not so much. Really fantastic writing, and the slow development of characters that aren't contrived or condescending. Even as tired as I was while watching this, I could not stop watching. I found this story mesmerizing....well done.
Cynthia S.
Super Reviewer
Mixed feelings on this one. On one hand, very original story and well cast (even Shirley Henderson is very good here. Not nearly as "screetchy" as normal - I am sure she puts that voice on!), also quite funny in a dark way thanks to Julia Davis (I can never take her seriously. I just see Jill from NIghty Night whenever I see her!). There was just something about the story itself that didn't sit quite right with me. It seemed horrible for Wilbur and Alice to be carrying on behind Harbour's back, and then the final scene seemed disrespectful to Harbour. I don't want to spell it all out and ruin it for those who have not seen this, but those who have will know what I mean. Perhaps I am missing the point, I am not sure...
Nicki Marie
Super Reviewer
One of the most bizarre films I have ever seen. Not that it's surreal per se, just... very odd. It's touching, well acted, nicely scored, but it's also all over the place and if there was a point to be made - and it felt like there shold be - I didn't get it. Unless it's that suicide is bad.
Daniel Parsons
Super Reviewer
Wilbur Wants to Kill Himself Quotes
There are no approved quotes yet for this movie.