The Wild Angels
(1966)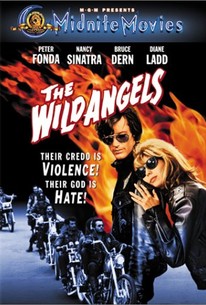 Movie Info
This film follows a group of wild bikers, led by Heavenly Blues (Peter Fonda), as they cause havoc and destruction while paying tribute to a dead gang member, "Loser" Josey Kerns.
Critic Reviews for The Wild Angels
Audience Reviews for The Wild Angels
½
Biker pictures are some of nastiest, grittiest films in Exploitation. The subject is ugly and intense. Some terrific films of the genre such as Easy Rider and Stone are memorable for their portrayal in the lifestyle. Stone being the more accurate of the two. Roger Corman's The Wild Angels is a classic of the genre, and is a fine biker film. With a great cast of actors, this film is very entertaining and is notable for using real Hell's Angels to add more authenticity to the film. The result is an impressive action drama that is brutal and intense. If you enjoy biker themed movies, then you should watch this film, it is a highly entertaining film that keeps you interested from start to finish. Peter Fonda is great here, and he would later star in Easy Rider. Roger Corman crafts something good here, a film that relies on its authenticity to create one of the most memorable biker films that has ever been filmed. With that being said, it does lack at times, but the fact that Corman hired real bikers for the film, makes this really appealing to viewers wanted a film that feels real. The Wild Angels is a worthwhile picture, one that manages to be packed with action and excitement throughout. Like I said, the film has its flaws, but works well enough to make it a film to enjoy. The Wild Angels is a film that will most likely appeal to midnight film fans, but as it is, it's a picture that deserves to be seen by any film buff looking for a well made cult film.
One of my favourite biker movies ever. Fonda gives a great performance. The story is good too. I really liked this movie.
peter fonda plays a hell's angels chapter president with nancy sinatra as his girlfriend. as awesome as that sounds it's not quite as ridiculous as i was expecting. more fun than good in typical corman fashion. nice scenery, lame script, bad acting. and way cool to see young bruce dern and diane ladd
Stella Dallas
Super Reviewer
The Wild Angels Quotes
There are no approved quotes yet for this movie.