Wild At Heart
(1990)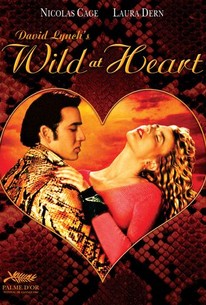 TOMATOMETER
AUDIENCE SCORE
Critic Consensus: One of director David Lynch's more uneven efforts, Wild at Heart is held together by his distinctive sensibilities and compelling work from Nicolas Cage and Laura Dern.
Movie Info
Lovers on the run from an angry mother, a private detective and a hit man, encounter a plethora of grotesques and stop for plenty of explicit sex.
Critic Reviews for Wild At Heart
Audience Reviews for Wild At Heart
Around the time of Wild At Heart's release, David Lynch was already enjoying an abundance of praise for his cult TV show Twin Peaks. However, this time he was working on an adaptation from another writer's work. The last time Lynch attempted to do this (Frank Herbert's Dune), the results were catastrophic. That said, Barry Gifford's source material is far more suited to Lynch's style. This may be a more linear film than most Lynch fans expected but it's one of his more accessible offerings while still maintaining his talent for the weird and the offbeat. Sailor Ripley (Nicolas Cage) and Lula Fortune (Laura Dern) are young lovers fleeing south from Lula's vengeful mother Marietta (Diane Ladd). In a fit of rage, Marietta is determined to prevent the two from seeing each other and employs the services of a P.I and hitmen to track them down. Some may (and do) claim that this is not Lynch's strongest output. I'm not about to split hairs on that particular opinion but there are some obvious reasons for this. For a start, Lynch has already got some solid films on his resumé and, as mentioned earlier, the original material is not his own. He also attempts something a bit different from his norm. For the most part, he abandons his surrealist, claustrophobic narrative for something more open and approachable: a road movie with numerous different characters and motivations. It isn't entirely what we have come to know and love about a Lynchian experience but he still manages to imbue it with some colourful dialogue and showcases his idiosyncratic knack for oddball characters which provides great fodder for an eclectic cast of strong performers: A lot has been said about the downfall of Nicolas Cage's career in recent times but it can often be overlooked just how good he was in the 80's and 90's and he's rarely been better than he is here. It's a very energetic performance and he plays it at just the right note whereby he's both funny and dangerous - not to mention the Elvis impersonations and the love he has for his snake skin jacket which "represents his individuality and belief in personal freedom"; Laura Dern is no less his equal as she captures the hyperactivity and naiveté of an infatuated teenager - even if she is slightly too old for the role; Diane Ladd is simply wonderful (and deservedly Oscar nominated) as the bitter and spiteful Marietta that will stop at nothing in achieving her vengeance and retribution on Sailor. It's a film filled with eccentric characters and the supporting ones are just as memorable: there's cousin Dell (Crispin Glover) who has a thing about Christmas and putting cockroaches in his underpants; Marcelles Santos (J.E. Freeman) the menacing hitman with a wicked sense of humour and real threatening conviction and Private Detective Johnny Farragut (Harry Dean Stanton) as the gentle heart of the film. You could also mention a brief and suitably odd Jack Nance or Sherilyn Fenn as a random car crash victim who deliriously worries about her purse while picking at the fatal wound in her head. It doesn't even have to be a prominent character, sometimes it's just a name; Uncle Pooch, Bob Ray Lemon and the enigmatic criminal kingpin, Mr. Reindeer - a character that wouldn't look out of place in a Quentin Tarantino story. There's so many vibrant characters that it's difficult to name them all but the best of the sordid bunch is when the lovebirds reach Texas and arrive at the town of Big Tuna and meet Willem Dafoe's incredibly creepy, Bobby Peru. If there's any comparison to the dark characters that inhabit Lynch's world then Blue Velvet's Frank Booth is probably the only one that can compare to Peru and his downright nastiness. The narrative itself is a dark and twisted delight; Lynch has always claimed the film to be a love story between Elvis Presley and Marilyn Monroe as they travel through the land of Oz and Lynch makes constant references throughout the film. Some work and others don't but there's no denying his inventive approach to the material. As much as this is a more linear and more approachable David Lynch movie, that's almost what makes it a lesser effort. It's his dream-like ability to work within realms that's missing. That's not to say that Wild At Heart doesn't have touches of this but it's not as prominent as it often is. That said, it still has the requisite amount of bizarre to please Lunch enthusiasts. Those who also enjoy a crime yarn with colourful characters will find plenty to admire too. In fact, I've mentioned Tarantino earlier for good reason. There's no doubt that Tarantino has been influenced by this particular film in his lovers-on-the-lam, screenwriting endeavours of True Romance and Natural Born Killers and the ability to make such inconsequential supporting characters so memorable. He even, personally, admitted that the film was a big influence on the style and tone of Pulp Fiction. Ultimately, the problem that makes Wild At Heart feel less like a Lynch film, though, is because he's constantly on the move. He rarely gets a chance to remain static and create an ambience within a room. This is what Lynch is a master at but having to focus on so many characters and so many locations doesn't provide him with that opportunity. That said, his deranged approach to characterisation is ever present and Wild At Heart contains some of the best. Like the odd love child of Tarantino and The Coen Bros. It matches the violence of the former and the zaniness of the latter and comes out feeling just as fresh and original as their work often does. It may be one of Lynch's more coherent films but it still has flashes of his dreamlike quality, peppered with strange, outlandish characters and events. Regardless of it being more linear, though, it's still a depiction of the off-beat and depraved underbelly of America, that no-one can do quite like Lynch. Mark Walker
Mark Walker
Super Reviewer
½
You know you've arrived as a filmmaker when a bespoke adjective is created to describe your work - Gilliam-esque, Kubrickian, Lynchian and so on. But with this honour comes the danger of said film-maker producing films which consist of familiar images or elements, without the narrative or thematic cohesion which earned them the label in the first place. Wild of Heart is only partially guilty of this, not being one of David Lynch's strongest or most cohesive efforts. Although its thematic unity is never in doubt, and its central narrative is easy enough to follow, it ultimately amounts to a series of strange and memorable moments which punctuate his loose reworking of a road movie. While episodic and baggy, it contains moments of Lynch at his absolute best, and even at its worst is nothing short of unforgettable. Just as Lynch saw Eraserhead as his version of The Philadelphia Story, so Wild at Heart could be described as his take on The Wizard of Oz. Lynch has acknowledged its influence throughout his career, and his most recent works, Mulholland Drive and Inland Empire, have incorporated visual or narrative references to it throughout. But whereas these films are Lynch works with little nods to Oz thrown in, this is a full-on marriage of the two, as Lynch takes all the touchstones of L. Frank Baum's story, adds plenty of violence, cranks up the creepiness (if that were possible), and makes the central relationship more emotionally raw and raunchy. The parallels between the two works are candid from the outset. Lula is Dorothy, thrust into a strange world that is "wild at heart and weird on top", and sustained only by Sailor's companionship and the promise of returning to something she can recognise. Sailor in this interpretation is an amalgam of Dorothy's companions: he's physically strong but an emotional coward, lacks brains, and his capacity for love doesn't extend much beyond devotion. Alternatively, these two represent different aspects of Dorothy, contrasting Sailor's self-confidence with Lula's sensitivity. The Oz references extend far beyond the permutations of the central characters. Diane Ladd makes a convincing Wicked Witch of the West, following Lula's/ Dorothy's every move, cursing the fact that the couple are still together and getting further towards their goal in spite of all her schemes. The long road to California doubles for the yellow brick road, and the car crash featuring Twin Peaks star Sherilyn Fenn could be a nod to the poppy fields, which disorientate and threaten to destroy the heroes. Fenn later turns up as a literal manifestation of the Good Witch Glinda, reflecting that the couple's perseverance and desire to help her were both the right choices to make. Lynch described the central theme of Wild at Heart as "finding love in Hell". He creates a dark, violent world all around the characters, populated by car crashes, robberies, betrayal, infidelity, sex, violence and various undignified deaths. With all the supporting characters having at least one foot rooted in the grotesque, Sailor and Lula become our natural focus, as people with at least part of their sanity intact who desire more than anything to escape, by whatever means. This atmosphere of aggression and theme of being trapped is reinforced by Lynch's choice of music. Working with Angelo Badalamenti, who has scored all his work since Blue Velvet, Lynch blends the laid-back 1950s sound of Chris Isaaks brilliant 'Wicked Game' to some very aggressive speed metal, the latter of which foreshadows his work with Marilyn Manson on Lost Highway. It's an oddly effective blend, depicting the violence and possible redemption which confront the characters. Music plays a key role in demonstrating the mental conflict of the central characters. In one great scene, Lula tunes through all the radio stations in the car, hearing nothing but bad news. She slams on the brakes, gets out of the car, and starts screaming that she'll go mad unless she hears music. Sailor finds some hard rock, starts screaming too, and they share an impromptu mosh in the middle of the desert, ending with a passionate embrace. There are big nods to the Elvis back catalogue, with Sailor serenading Lula with 'Love Me' in the club, and finally cementing his love with 'Love Me Tender' during the credits. Although these scenes in and of themselves are well-assembled and great fun, they do hint at the big central problem with Wild at Heart. There are so manystrange little bits floating around the central story that they never quite integrate into a seamless, disorientating whole. Lynch's symbolic imagery and manipulation of colour don't gel quite so naturally with the story and characters as such techniques did in Blue Velvet or Mulholland Drive. The Blue Velvet comparison is the more illuminating, particularly with regard to the amount of time the ideas of the film had to gestate. Lynch had the story and themes of Blue Velvet all worked out in his head before Dune, so that even when he was forced to shoot quickly due to lack of money, he knew how to shoot the robins speech, or the zoom down to the cockroaches, in a way which was seamlessly integral to the story. Wild at Heart, on the other hand, was rushed into production following the collapse of Dino DeLaurentiis' production company, which delayed progress on both Twin Peaks and Lynch's pet project, Ronnie Rocket. He was given Barry Gifford's novel by friend Monty Montgomery with a view to producing it, and only had two months between buying the rights and beginning to shoot. It is no surprise therefore that the script of Wild at Heart doesn't entirely click; it is, in Lynch's words, "a compilation of ideas." This disjointed feel has the side effect of taking us out of the story during many of the weirder moments. The cameos by Jack Nance or Crispin Glover may induce a laugh, but the reaction they produce is one of puzzlement rather than mesmerism. Some of Badalamenti's musical cues are overcooked, such as the huge dramatic chord when Sailor pulls up at Perdita's house. And the final scene, where Sailor and Lula reaffirm their love, lacks the beauty and irony of Blue Velvet's ending, which manages to be both uplifting and watchful. Despite some self-imposed cuts on Lynch's part, there are many scenes in Wild at Heart which remain problematic. The violence is par for the course for an 18 certificate, even the sight of Willem Dafoe's character losing his head with a shotgun. But the sexual advances of Dafoe's character are deeply disturbing for all the wrong reasons, and the recurring image of Lula's rape does nothing but turn our stomachs. Ultimately, the performances in Wild at Heart are enough to see things through. Nicolas Cage is on startling form, showing that he thrives when given a director who understands melodrama and exaggerated characters. He may be massively over-the-top, but it makes sense, and his Elvis impersonation is great. Laura Dern's unusual beauty fits the Southern belle look of her character, and we believe in her emotional turmoil throughout. Amongst the hysterical supporting case, including Dern's real-life mother Diane Ladd, the stand-out is Harry Dean Stanton, who stands calm in the eye of the storm, looking as bemused as the rest of us. Wild at Heart is not Lynch's finest work by any stretch of the imagination. It has structural deficiencies which were not sorted out in the editing room, and the lurches in tone may prove too much for the casual viewer. But in the moments when it does work - and there are plenty - it is an often joyous reminder of Lynch's power as a film-maker, telling stories in ways which are frighteningly unique. While no masterpiece, nor an ideal starting point, it is often majestic and always memorable.
Daniel Mumby
Super Reviewer
½
A good, but not terrific film. Very interesting surrealist road movie, but exist others David Lynch's film that deserve the Golden Palm.
Lucas Martins
Super Reviewer
Wild At Heart Quotes
| | |
| --- | --- |
| Bobby Peru: | Bobby Peru, just like the country. |
| | |
| --- | --- |
| Bobby Peru: | It`s full of dummies...dummy! |
| Bobby Peru: | It`s full of dummies, dummy! |
| | |
| --- | --- |
| Sailor Ripley: | I guess I started smokin' when I was about four. My Mama was already dead by then from lung cancer. |
| | |
| --- | --- |
| Lula Pace Fortune: | One of these mornins the sun's gonna come up and burn a hole through the planet like an electrical exray. |
| Sailor Ripley: | That ain't never gonna happen, honey. At least, not in our lifetime. By then they'll be drivin' Buicks to the moon. |