Wild Bill
(2011)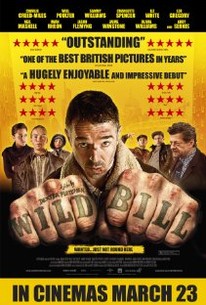 Movie Info
Out on parole after 8 years inside, Bill Hayward returns home to find his now 11 and 15-year old sons abandoned by their mother and fending for themselves. Unwilling to play Dad, his arrival brings them to the attention of social services. With the danger of being put into care looming, Dean forces his Dad to stay by threatening to grass him up for dealing. Dean soon connects with Jimmy and through this new bond starts to realize what he's been missing. He has a family and a place in the world, but when Jimmy gets into trouble with Bill's old cohorts, he quickly has to decide what kind of Dad he wants to be. A good one, or a free one.
Critic Reviews for Wild Bill
Audience Reviews for Wild Bill
This is a movie that definitely sneaks up on you. While it certainly has a cliched story and the potential to be sentimental, the movie moves past those cliches and creates a touching but believable story that is, surprisingly, unsentimental. Well, there is the last scene in the movie which was a little corny. I don't think I have much to say about this movie, but it definitely starts out slow. Understandable, as it's setting up the characters and the situations they find themselves in, but it's gonna test some people's patience. Thankfully, the acting from everyone is top-notch, so it makes watching the slower parts of the film far more interesting. And when I say slow, I don't mean bad. It's never a bad movie thanks to its acting, writing and directing. It definitely has a more deliberate pace than a lot of movies. But I think the narrative is very satisfying as you get to see this man, who has pretty much been a deadbeat dad for years now, finally come around and try to do right by his kids, who've been abandoned by their mother as well. It sounds cliched and stereotypical, and it would've read that way, but thankfully the execution of this idea is very well done and it certainly does its best in not giving in to tropes. I don't have much else to say really, this is just a supremely well-made film with excellent acting and a strong narrative. It takes a while to get into, but those that stick with it will be rewarded with an excellent film.
Jesse Ortega
Super Reviewer
Wild Bill is one of the most overlooked films of 2012. It contains a good cast and a well written story that you will be invest to see til end credits roll. Wild Bill centers around Bill Hayward who we meet upon his release from prison on The Isle of Wight following an eight year stretch for various transgressions in his early life. Bill returns to his home in East London to find that his two young sons have been abandoned by their mother and are now trying to cope on their own whilst avoiding the gaze of social services. The plot here solid balancing family drama and humor with ease. Character development is the strongest aspect here as we are given enough time to relate to the characters and sympathise with them. These character feel realistic acting the way actual people would in this kind of situation. Seeing the title character embraced his responsibilities as a father is a rewarding experience that not drama can pull off. One minor problem I do have are the gangsters who are two dimensional. The gangster at time just appear when the plots them too, but that's a minor complaint. The acting is solid from every single one of it actors. In particular the young child actor Will Poulter who's deliver a very professional performance few kids his age could even match. His acting is at the same level as the adults and without doubt Poulter has a bright future in his acting career. Also, special praise to Dexter Fletcher who was able to capture the best of the actor chemistry with each other and being able capture the true essence of the story he is telling. Wild Bill is a great drama that you should see if you have not seen it already. It's well made, offers a rewarding experience, and a great acting from it cast that should not go unnoticed by the general public.
Caesar Mendez
Super Reviewer
It's pretty much inevitable that throughout each year a British working class drama will make an appearance. What's surprising about them though, it that whoever steps behind the camera, they seem to find some more mileage and deliver something different from a now tiring formula. Paddy Considine done it last year in "Tyrannosaur" and now (another) actor turned director Dexter Fletcher does it with this. "Wild" Bill Hayward (Charlie Creed-Miles) has just been released from prison. He heads back to his home where he finds that his partner has abandoned his children in his absence, leaving his 15 year old son Dean (Will Poulter) and 11 year old Jimmy (Sammy Williams) fending for themselves. When there is a threat of them being taken into care, Bill reluctantly decides to stick around but his youngest has got involved in drug dealing, dragging Bill back into the life he's been trying to avoid. I'll be honest in my judgement of this film beforehand; I was expecting another attempt at ripping off Guy Ritchie and the success of his film's "Lock, Stock and Two Smoking Barrels" and "Snatch". I'm happy to say that wasn't the case here. Sure, this film possesses a similar gritty feel and similar touches of humour but Fletcher has crafted a very personal film that has an appeal of it's own. This doesn't follow the conventions of the British crime flick but delivers a touching and heartfelt family drama. It also pays homage to the classic western in a very understated and clever way; apart from the title itself, the main character of Bill has a tattoo of a Sheriff badge on his chest; he refuses to be run out of town and stares down the local nasties - climaxing in a bar room (saloon) showdown where it becomes apparent why he has received his moniker. All the elements are here and writer/director Fletcher does well in managing them with a subtlety without losing track of the job at hand. Despite the downbeat, and sometimes threatening characters and dysfunctional family element, there is a lightness of touch to be found here and the whole cast deliver memorable shows. Ultimately though, it comes to the leading man himself; Charlie Creed-Miles. A lot of people may be unaware of this highly underrated actor's talents but he had previously delivered excellent supporting roles in Gary Oldman's directorial debut "Nil By Mouth" and Luc Besson's "The Fifth Element". Whether or not this film gets him more work remains to be seen but he's certainly deserving of it and shows impressive range here as a decent hearted father with an underlying protective ferocity. This is a film that manages to juggle several themes and moods and marks a very successful debut from Dexter Fletcher. I only hope that more of an audience get to see this little gem.
Mark Walker
Super Reviewer
Wild Bill Quotes
There are no approved quotes yet for this movie.