Wild Canaries
(2015)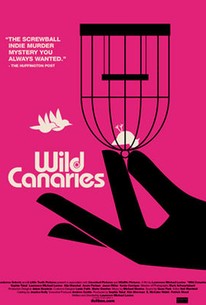 TOMATOMETER
AUDIENCE SCORE
Critic Consensus: Marrying hipster narcissism with old school noir, Wild Canaries is a lighthearted and slick update on the classic Hollywood murder mystery.
Movie Info
A newly engaged couple suspects murder when their elderly neighbor turns up dead. (C) Official Facebook
News & Interviews for Wild Canaries
Critic Reviews for Wild Canaries
Audience Reviews for Wild Canaries
½
Unsure of what to make about this film. It's obvious that there's a lot of enthusiasm behind this project and it's clearly a labor of love from all of those involved. It's a tribute to old-school screwball murder mysteries, but I just don't think that the film really comes together in an entertaining fashion until much later in the film. It really gets going once both Noah and Barri join forces in their 'investigation' to figure out who's behind the conspiracy going on here. Prior to that, both Noah and Barri spend almost every scene together arguing and yelling at each other about something or another. Whether it be their economical situation, their lack of support for the other, their wedding, potential extramarital affairs, the fact that Barri is pursuing a murder investigation without any proof of one, etc, etc. It gets to a point where this couple is really just insufferable to listen to and parts of me wouldn't have minded if I shut off the movie. It's not that every film character should be likable, but you have to at least understand their motivations in acting they way they do, even if they're acting irrationally or annoying, as these two frequently do. And in some parts, I do see why they behave a certain way, but I still found them insufferable for, at least, 65% of the film. And I get the reasoning behind it, Noah and Barri's relationship needed a spark, and this murder investigation gave it to them, it just comes too late into the film to truly make an impact. This is one of those films that some will simply dismiss as a hipster-indie comedy and I don't think that's fair. While I didn't think it was good, it was really close to it by the end actually, I don't think there's any real 'pretentiousness' in the film itself, I think that people are letting the vibe of the film, or its trailer, take importance over the content of the film itself. You can't pass judgment based on your perception of the film without having seen it. I do think that as the film nears the end, everything starts coming together really nicely. They're really into the murder mystery and they're feeding you bits and pieces of information to keep you intrigued. The comedy also really clicked right around the same time. The best bits are just as the film is ending. It's not like there aren't any funny moments prior to that, it's just that they come with more frequency as the film reaches its climax. The writing is acceptable, at least as far as dialogue goes, the narrative itself doesn't really work until, as mentioned, it nears the climax. The acting is quite good, easily the best part of the film. I was really close to thinking this movie was good. It just didn't get there, unfortunately enough. This is a love it or hate it film. I think it's well-made, though it lacks some plot coherence that would've really taken it over the edge in the long run. Still, this is about as good as an average film can be.
Jesse Ortega
Super Reviewer
½
Levine's putting his own spin on one of Woody Allen's murder mystery comedies, substituting high strung Brooklyn hipsters for the neurotic Manhattan intellectuals of those films. It's rather amusing, even if some of the plot is undercooked.
Alec Barniskis
Super Reviewer
Wild Canaries Quotes
There are no approved quotes yet for this movie.