Wild Hogs
(2007)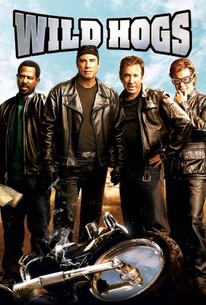 Movie Info
A group of middle-aged friends decide to rev up their routine suburban lives with a freewheeling motorcycle trip. Taking a long dreamed-of breather from their stressful jobs and family responsibilities, they can't wait to feel the freedom of the open road. When this mismatched foursome, who have grown far more used to the couch than the saddle, set out for this once-in-a-lifetime experience, they encounter a world that holds far more than they ever bargained for. The trip begins to challenge their wits and their luck, especially during a chance run-in with the Del Fuegos, a real-life biker gang who are less than amused with their novice approach. As they go looking for adventure, they soon find that they've embarked on a journey they will never forget.
News & Interviews for Wild Hogs
Critic Reviews for Wild Hogs
Audience Reviews for Wild Hogs
[img]http://images.rottentomatoes.com/images/user/icons/icon13.gif[/img]
Directors Cat
Super Reviewer
Hmmm bit of an A-list ego trip really, not much happens here that isnt predictable, cliched and rather unfunny to be frank. Just a bunch of old guys trying to be cool and funny whilst trying to impress younger women, thats all this is! haha and thats on both counts as in film and reality methinks. I just think this was a fantasy holiday for the cast to live out and not much more, I can't believe they were paid for this, we'll be seeing Travolta as a pilot in a film soon I reckon, just doing what he loves and getting paid for it. The bikes are cool and so is the idea for a real life holiday but its kinda lame seeing big names getting paid huge amounts for this kind of 'work' whilst trying to desperately regain their youth and fame for real at the same time.
Phil Hubbs
Super Reviewer
Wild Hogs is just okay for, I like watching it but I also feel embarassed when i do because of how cliche and dumb it is at many times.
Jim Careter
Super Reviewer
Wild Hogs Quotes
| | |
| --- | --- |
| Dudley Frank: | I'm gonna go hang this bag of poop in a tree so the bears don't get it. |
| Woody Stevens: | No no, Don't hang it in a tree! |
| Dudley Frank: | Why not? |
| Woody Stevens: | Cause bears don't eat shit! |
| | |
| --- | --- |
| Bobby Davis: | They say you can get water in cactuses. Where in a desert and they don't get no damnable cactuses. |
| Dudley Frank: | I think when its plural its pronounced cacti. |
| Bobby Davis: | Im killing him. |