The Wild One
(1954)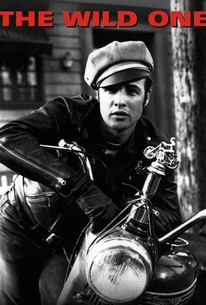 Movie Info
Johnny and his vicious biker gang invade a small, sleepy 1950s California town. The leather-jacketed young biker seems hell-bent for destruction until he falls for Kathie, a good girl whose father happens to be a cop. Unfortunately for Johnny, his one shot at redemption is threatened by a psychotic rival, Chino, plus the hostility and prejudice of the townspeople. All their smoldering passions explode in an electrifying climax!
Critic Reviews for The Wild One
Audience Reviews for The Wild One
A young and angry Marlon Brando lights up the screen as an aimless biker gang leader rebelling against whatever he can find in this cult classic from the 50s. Johnny is the leader of the Black Rebels Motorcycle Club, and he spends most of his time just cruising around and raising hell. Things start to change when he and his crew invade a small, sleepy California town and he meets a cute young lady who might just be what he needs to change his ways. That all changes when he finds out that her dad is the local cop. Not only that, but he's also got to deal with the intolerance of the townspeople, and a rival gang leader named Chino, played by the always cool Lee Marvin. I liked this one. I liked it maybe even more than Rebel Without A Cause. This is certainly not as overrated or heavy handed as that one. It's a nice existential drama, and for a B movie, it's shot and executed far better than it has a right to be. Yeah, it's not the deepest film, but it's not totally devoid of substance, either. The acting is pretty solid. Brando is course is uber cool as Johnny, oozing a quiet strength. Marvin is larger than life, and somewhat cartoony, but hey, it works. The other performers aren't as well known, but they do decently in their respective roles. All in all, this is a pretty good one.
Chris Weber
Super Reviewer
½
Dated and a bit ridiculous now partially owing to the familiarity of some of the actors playing gang members who went on to careers as reliable supporting actors. How threatening can Jerry Helper from The Dick Van Dyke show really be now after years of watching him with Rob, Laura and devoted wife Millie? Aside from that all the actors are too old to be believable as a roving gang of purported teens.
This is one of my absolute favourite biker movies. Brando is perfect in the lead role. The story is good, and the movie is exciting.
The Wild One Quotes
| | |
| --- | --- |
| Johnny: | I'm rebelling against high taxes. |
| | |
| --- | --- |
| Mildred: | Hey, Johnny, what are you rebelling against? |
| Johnny: | What've you got? |