Wild Orchid
(1990)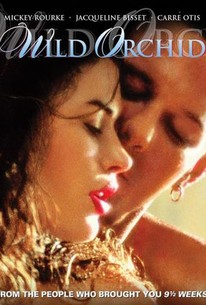 TOMATOMETER
AUDIENCE SCORE
Critic Consensus: Body Orchid is a tease-too-long, with overblown editing with an already slipping Mickey Rourke and unexperienced actress Carrie Otis.
Movie Info
When the young, innocent Emily Reed (Carre Otis) is hired by a New York City law firm, they immediately ship her out to Rio de Janiero to assist Claudia Lirones (Jacqueline Bisset) in an important business deal. Emily arrives in Rio during Carnival time, and when she becomes part of a millionaire's kinky sex games, she quickly learns the deal she has been sent on is anything but business as usual.
Critic Reviews for Wild Orchid
Audience Reviews for Wild Orchid
½
So I finally rented Wild Orchid and this is one steamy flick that probably won't please everybody. I think the sensuality is very erotic. Rio de Janeiro is a truly beautiful setting for sin, and the movie depicts its partying attitude in spades. This movie doesn't lie about its intentions. If you wanted a sexually charged erotic drama/thriller, it doesn't disappoint. Yes, it's pretty slow, but the erotic build-up is very good and the music is sexy and moody. Wild Orchid is Unrated for extremely strong graphic sexuality and nudity. While the film is tame by today's standards, one has to remember that when released in 1990, it was very explicit. OK...maybe it's not the best dialog...maybe it's not the best screenplay...maybe it's not several things! But the female in me can't help but notice that brooding Mickey Rourke was one good looking man and looks extremely sexy on that Harley motorcycle. Smoking Hot!
Some Minor Spoilers Here**************************** This movie, underrated and panned by most is to me one of the most enduring erotic films of all time. judged as a fantasy, it doesn't have to go by the rules that govern normal film criticism. flawed by those standards, it will still be shown for a long time. Carre Otis doesn't have to be a stereotypical, international lawyer. it doesn't have to have continuity or a rich script they are the characters they portray at the fantasy level, with scenes of sexual tension, unexpected happenings and the intense, colorful noisy, bizarre and sexy backdrop of Rio Also much of the story is in subtext and symbolism. The silent boy character, for example, who clearly represents Wheeler( Mickey Rourke) as a child. When Wheeler decides to stop playing games, he sends the boy as his messenger to deliver the message. He has had to face a few things and get in touch with his past in order to move beyond his emotional issues. Yes, there are some examples of bad acting and cheesy lines here and there as is the case with most movies. Yes the plot is improbable. But don't dismiss this film as just another excuse for soft-pornography. The story here is in the characters. And it is backed up well by exotic atmosphere and beautiful photography. Not to mention a great soundtrack. Recommended
David Ladd
Super Reviewer
Wild Orchid Quotes
| | |
| --- | --- |
| Claudia Lirones: | (talking to Emily about James) Tell him to take his pants off. |
| Claudia Lirones: | Tell him to take his pants off. |
| | |
| --- | --- |
| Claudia Lirones: | (to the fresh-faced Emily) Put on some goddamn lipstick! |
| Claudia Lirones: | Put on some goddamn lipstick! |
| | |
| --- | --- |
| James Wheeler: | How come you're always following her around? I mean, don't you have anything better to do with your time? Hey, you better stay away from that one. Otherwise, she's gonna break your heart. |
| | |
| --- | --- |
| Emily Reed: | Why this? Why all the trouble? |
| James Wheeler: | Because I'm interested in you. |