Wild Things
(1998)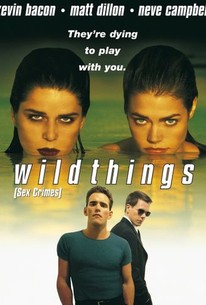 TOMATOMETER
AUDIENCE SCORE
Critic Consensus: Wild Things is a delightfully salacious, flesh-exposed romp that also requires a high degree of love for trash cinema.
Movie Info
Think of it as endless endings. John McNaughton's playful erotic thriller about a larcenous school teacher, a pair of greedy coeds, and the cop on their trail has as many twists as there are characters, but it's all in good fun.
News & Interviews for Wild Things
Critic Reviews for Wild Things
Audience Reviews for Wild Things
An interesting movie. There is the odd twist in it.
½
Wild Things is of course a film that people have heard much about because of the kissing scene between Denise Richard and Neve Campbell. That was obviously one of the high points of the film, but what makes the film good is the elaborate plot twists that the film offers to the unsuspecting viewer. Wild Things is thrilling film with a surprising well executed story. The film has its flaws, but for the most part, it succeeds at being very entertaining. The cast are surprisingly good here, and Denise Richard actually delivers a pretty good performance. Wild Things is an intricate film that tends to deceive, and what you see is never what you actually think it is. The plot twists and turns and it keeps you guessing till the end, and that's what makes the film good. But the thing I didn't really like about the film, is that it felt almost teen oriented and if they would've focused more on a story that adults would enjoy thoroughly, it would've been much better. The downside was that the film felt slightly like a 90210 episode. Not much, but a bit, luckily there's enough good things going on on-screen that makes up for the bad points, and even with the slight teen feel, Wild Things works well enough to be an effective thriller. Obviously the biggest thing that's going for Wild Things is the make out scene with Neve Campbell and Denise Richard, but it's not that spectacular actually. For me though, Wild Things biggest strength is the unfolding plot twists, and without them, the film would suck. Pretty good film considering the somewhat lacking elements which I pointed out earlier in this review.
It hurts my brain to think that someone actually wrote this movie. Wild Things' journey from Point A to Point B is so convoluted and messy, it's almost as if some sad screenwriter drew a beginning and ending out of a hat and resolved to connect them with a million other plot points from that same hat in between. The movie is like a hyperactive toddler with a story to tell; you might get the whole story eventually and it'll probably be sort of funny, but it's punctuated in really bizarre places and you eventually start to get fed up and just want to hear the ending. Honestly, by the time I got to the end of this movie, I looked back and thought "what the fuck" to myself and sort of left it on the ground. I mean, there are plot twists DURING AND AFTER THE CREDITS. It's like, come on guys, can we please just call it a night? Wild Things' sheer audacity makes it memorable, at the very least, but more tiring than anything. That said, though, it's really rather fun in a trashy way. I think the casting absolutely hamstrings it, as Denise Richards and Matt Dillon can really only take you to predictable places, the former as a fake-naive sexpot and the latter as a gruff authoritative sexpot (and Neve Campbell, who I generally like, is pretty awful here). It looks shitty in a way that suggests there wasn't much more on the DP's mind than cramming as much as Denise Richards' naked, writhing body on the screen as often as possible. But hey, if a 27-year-old with fake breasts pretending to be a high schooler does it for you, then by all means. Kevin Bacon's pretty fun, though of course it takes about five thousand plot twists for him to get there. Basically every character in this movie is involved in at least twenty or thirty plot twists so that's not really a spoiler. Honestly, I'm really surprised that there wasn't some ultimate fuck-off "it was all Denise Richards' schizophrenic delusion" plot twist at the end. Thank goodness for small blessings, I suppose.
Drew Smith
Super Reviewer
Wild Things Quotes
| | |
| --- | --- |
| Kelly Van Ryan: | I miss Dad. |
| Sandra Van Ryan: | I miss him too... sometimes... |
| Kelly Van Ryan: | No you don't! |
| Sandra Van Ryan: | He didn't HAVE to kill himself, Kelly. |
| | |
| --- | --- |
| Ray Duquette: | People aren't always what they appear to be. Don't forget that! |
| | |
| --- | --- |
| Ray Duquette: | Did Sam sell you up front on the idea of whacking Suzie? [grabs Kelly] That's murder, kid. |
| | |
| --- | --- |
| Ken Bowden: | [last lines] Suzie! Be good! |