Wild Things: Foursome
(2009)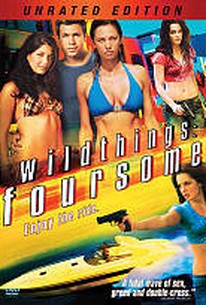 AUDIENCE SCORE
Critic Consensus: No consensus yet.
Wild Things: Foursome Photos
Movie Info
The son of a wealthy hotel tycoon becomes embroiled in a murder conspiracy after his powerful father is killed in a tragic boating accident. A child of privilege, Carson Wheetley (Ashley Parker Angel) lives a life that most kids could only dream about. But not everything in Carson's world is made out of gold; convinced that his womanizing father was indirectly responsible for his mother's untimely death, the emotionally damaged trust fund child immerses himself in a life of debauchery. Later, when Ted is killed while speedboating, Detective Frank Walker (John Schneider) launches a thorough investigation, and quickly discovers that depravity runs deep in the Wheetley family.
Critic Reviews for Wild Things: Foursome
All Critics (2) | Fresh (0) | Rotten (2)
Save yourself the time and money, watch a softcore skin flick on Cinemax and forget this film exists.
...Wild Things: Foursome primarily comes off as a surprisingly tedious endeavor that boasts so many similarities to its 1998 predecessor that it often feels like a remake...
Audience Reviews for Wild Things: Foursome
½
Almost so bad it's good, Wild Things: Foursome is completely out of control. Once again a spoiled rich kid from Blue Bay seeks to break his trust fund and concocts an elaborate scheme in order to do so, but he and his partners begin to turn on each other when a detective starts snooping around. The story's beyond absurd and is full of plot holes. But the cheesiness and gratuity are so over done that it becomes kind of fun at times. While there are some entertaining parts, Wild Things: Foursome is all kinds of awful.
Dann Michalski
Super Reviewer
½
The fourth flick in this franchise did surprise me by breaking from the stale formula somewhat. We have a rich boy who joins a plot to get his father's fortune. The "good" girl/"bad" girl model is bent and complicated. Ethan Smith as a young legal financial manager is a different sort of character mainly because he doesn't have the standard beach body. And Schneider as the pursuing detective is different in the way he stays above corruption in some ways. Also as the title suggests, an extra girl is added to the one big sex scene. So, these aren't big changes, but the sum makes this thriller feel a bit fresher.
Byron Brubaker
Super Reviewer
Wild Things Foursome is the seductive fourth instalment in the hot and sexy Wild Things series. Hotel billionaire Ted Wheetley is tough on his party going son, Carson (Ashley Parker Angel), who believes his wealthy womanizer father drove his mother to her death. When Ted is accidently killed in a car racing accident, Detective Frank Walker (John Schneider) is assigned to investigate the case. Carson has no time to mourn his father's loss as he is soon accused of rape after a party held at his house. He pays his accuser off and marries his long time girlfriend thinking that his troubles are over but things are not as they seem. Everyone it seems want piece of the cake and no one is to be trusted. As Detective Frank digs deeper into the death, he becomes more and more suspicious of the scheming, seduction, greed, double-crossing and possibly even cold blooded murder. Nothing new here, it's predictable, somewhat entertaining and like the name suggests there is a foursome here! I think that is being just a tad ambitious. It's an impressive sight, but that's a lot of pressure for one guy lol. Rated R for sexuality and nudity.
Wild Things: Foursome Quotes
There are no approved quotes yet for this movie.