Wild Wild World of Batwoman
(1966)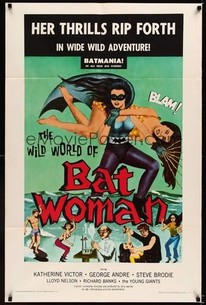 AUDIENCE SCORE
Critic Consensus: No consensus yet.
Movie Info
Batwoman (Katherine Victor) is a costumed crime fighter who leads a gang of beautiful Batgirls in a neverending crusade to "fight against evil with all sincerity." Her arch-enemy, Rat Fink (Richard Banks), sends henchmen to drug one of the Batgirls at a nightclub and hold her for ransom. Rat Fink wants revenge against Batwoman for foiling so many of his criminal schemes, so he threatens to dispose of the kidnapped girl if the heroine doesn't help him steal a very valuable new invention. The Ayjax Development Corporation has created an atomic hearing aid that hasn't been awarded a patent yet in the United States because it can be used for eavesdropping on telephone conversations, and it's downright explosive if exposed to cobalt. Rat Fink wants it for these very reasons, but Batwoman outwits his henchmen and escapes with the Batgirl. Understanding the danger that the world would be in if the device fell into the wrong hands, the Batgirls are sent to Ayjax to guard the prototype. Rat Fink's men hoodwink the ladies by serving them soup laced with experimental "happy pills," causing fits of go-go dancing, and soon the forces of evil have the atomic hearing aid in their clutches. Batwoman must save the day, and holds a seance to consult the spirits of the dead for help. Can Rat Fink be stopped or will the Batgirls be distracted by a wild rock & roll beach party? After D.C. Comics sued director/producer Jerry Warren for copyright infringement, a brief prologue featuring three yogurt-drinking vampire girls was added to this campy genre spoof and the title was changed to She Was a Hippy Vampire.
Critic Reviews for Wild Wild World of Batwoman
Audience Reviews for Wild Wild World of Batwoman
Watching some of the old MST3K episodes available for streaming on Hulu and Netflix (there is a different random selection on each platform). Whether it is Joel or Mike watching these awful movies with the bots I do not envy their torture. Their snarky comments add some entertainment value, but my ratings are based on the movie's quality itself and not the commentary broadcast from the satellite of love. High camp from Jerry Warren who holds credit for director, writer, producer, editor, and musical director. Has little relation to the comic characters. A costumed villain taunts a costumed "heroine" and her busty go-go dancer followers. Feels like a bad avant-garde theatre troupe deciding to try their hand at film.
Byron Brubaker
Super Reviewer
It is so bad, that it is good
Sylvester Kuo
Super Reviewer
Lots of dancing...and hot soup, that apparently makes them that way. The storyline makes almost no sense at all and the obvious Batman/Batgirl ripoff sucks as well. Hell, the whole damn thing sucks. One of the worst films ever made, I truly believe.
Derek Daniels
Super Reviewer
Wild Wild World of Batwoman Quotes
There are no approved quotes yet for this movie.