Wild Zero
(2000)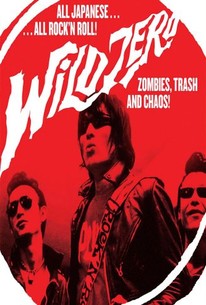 Movie Info
Punk rock, zombies, and space aliens combine for this post-apocalypse youth-culture blowout from Japan. After the crash of a meteorite, a number of people are suddenly transformed into zombies, and a squadron of invaders in flying saucers arrive to prey upon Earthlings in this time of chaos. Entering the fray to defend the world is the leader of a frenetic punk rock band, (Guitar Wolf), who proclaims "Rock & roll has no boundaries, nationalities, or gender!" As Guitar Wolf and his partners in rock prepare to do battle with the zombies, they're joined by another rocker (Endo Masashi) who is madly in love with a beautiful woman, even though she's not really a woman at all. But the rockers have other enemies besides the zombies and space men -- a scummy music business hotshot and part-time dope dealer who is furious with Guitar Wolf for choosing more scrupulous representation and is now looking for revenge. In real life, Guitar Wolf is also the leader of an acclaimed Japanese punk band of the same name, and his bandmates also appear in the film as themselves. Wild Zero received its North American premiere at the 2000 Vancouver Film Festival.
Critic Reviews for Wild Zero
Audience Reviews for Wild Zero
½
Japanese greaser Ace is befriended by the band Wolf Guitar, who give him a whistle to call them, which comes in handy when a town is overrun by zombies. Basically, this movie is about the magical power of rock n' roll (and to a lesser extent, love) to overcome the undead; it's more "awesome" than "good."
½
Guitar Wolf. Nuff said.
I guess I'm missing something because even drunk and playing the recommended drinking game for this couldnt save it from completely sucking. I like Japanese movies, I like zombie movies and I like off-beat comedies but I found nothing to like about this boring, unfunny waste of time. Give me Junk or Stacy anyday over this crap.
A.D. Villarreal
Super Reviewer
Wild Zero Quotes
There are no approved quotes yet for this movie.