Wilde
(1998)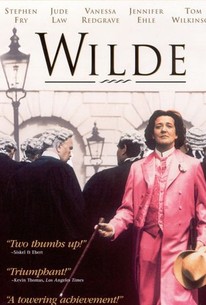 TOMATOMETER
AUDIENCE SCORE
Critic Consensus: Wilde can't hope to communicate the entirety of its subject's fascinating life or outsize talent, but Stephen Fry's stellar performance offers abundant compensation.
Movie Info
The life of Oscar Wilde, at least that part pertaining to his sex life, Lord Alfred Douglas and his ruinous trial for indecency.
News & Interviews for Wilde
Audience Reviews for Wilde
½
Man, Stephen Fry is so convincing in this role that I guess one might say that he was "born to be Wilde"! Well, that was a lame insult to a pretty cool lyric, and it's not even an accurate statement, because from what I see in this poster, if anyone's going to Oscar Wilde, it's Gene [u]Wilde[/u]r. Wilde is just kind of struttin' around, looking like he's on his way to the chocolate factory, but hey, I won't cramp this Wilde child's style. These song references are proving to be gayer than Oscar Wilde, although, in all fairness, Wilde was only bisexual, heavy on the flamboyance. He was like Freddie Mercury, in that we always kind of forget that he liked women every now and then, too, so maybe it is perfect that Stephen Fry is Wilde, because I always kind of forget that he's gay. I guess it's a pretty good sign that he played Oscar Wilde at one point, although, it's not like anyone remembers or even saw this film, oddly enough. You'd figure the big biopic on Oscar Wilde would receive more attention, but then again, in all fairness, it has some issues to keep you distant. Issues regarding pacing and structural tightness are among the more considerable in this film, which promises to be rather extensive as a biopic, only to succumb to anything from repetitious filler, - at its worst with the forceful and recurrent insertion of a recital of Oscar Wilde's own short story "The Selfish Giant" - to meandering material whose being backed by steady directorial storytelling by Brian Gilbert leads to moderate bland spells. Of course, more distancing than the excessive dragging is the overt tightening, because although I boast about a potential of depth, at just shy of two hours, this interpretation of an almost grand portrait on a tragic figure stands to be more fleshed out, often falling pretty flat in expository depth, particularly when it comes to character motivations that should be thoroughly important in a drama of this nature. The film is limiting potential enough by conceptually simply studying on Oscar Wilde's sexual revelations and their subsequent consequences, rather than the whole of his brilliant life and tragic downfall, but when it comes to the execution, not enough studying is done in this often inspired, and just as often undercooked character drama which at least finds superficiality in its resonance. With all my griping about the slow spells, the film is so colorful largely because it gets to be so sentimental, perhaps too much so, having a tendency to overplay Debbie Wiseman's lovely, yet formulaic and overwrought score, as well as certain other heavy-handed elements, until subtlety buckles under the weight of both overambition and laziness. Of course, reflections on laziness are as clear as they ever are when found within the conventionalism of the storytelling, which, no matter how intriguing in a lot of ways, hits trope after trope as a very '90s biographical drama, - complete with the sentimentality - even if it does so with a little more structural unevenness than usual. This film could have gone quite a distance, and it does have the heart to do so, but not the consistency, because, when it's all said and done, the pacing is too uneven, the narrative too undercooked, and the dramatics being too overambitious to transcend sentimentality, yet still too lazy to transcend formula, for the final product to truly reward. With all of that said, the film does come close enough to engage throughout its course, with color, intrigue and, of course, good looks. Although it might not be particularly remarkable, Martin Fuhrer's cinematography offers plenty of subtle emphasis on lighting which handsomely polishes art direction by Sarah Hauldren and Martyn John that captures Britain during the latter 19th century distinctly enough to be attractive, if not immersive. Production value is pretty solid throughout the film, augmenting a certain handsome visual style that in turn augments entertainment value, which, of course, needs substance in order to thrive, at least in concept. There's a certain minimalism to this story concept that is exacerbated by its interpretations own limp areas, but Oscar Wilde's personal story is as captivating as any of his stories, particularly during its climax, which shines an almost haunting light on dark secrets and how society interprets them, and establishes a pretty solid deal of potential, done a degree of justice and injustice by either overambitious or lazy storytelling. Julian Mitchell's script tends to drag its feet, if not cut short a lot of expository depth, but it keeps consistent on razor-sharp dialogue, occasionally broken up by witty humor that puts a bit of kick in the slower spots, about as much as highlights in Brian Gilbert's direction which break up slow spells and sentimentality with occasions of color and effective thoughtfulness. If nothing else, the film is pretty entertaining, and when dramatic highlights come into play, glimpses into what could have been sparks brightly enough to help endear, maybe not thoroughly enough for the final product to reward, but decidedly enough to hold a fair deal of your attention in this improvable character study. What human intrigue there is finds itself secured by consistently inspired performances, the highlights of which include the dashing, then-up-and-coming Jude Law as Lord Alfred "Bosie" Douglas, - a man who must choose between embracing his lover and escaping the tragic fate of this lover - and, of course, leading man Stephen Fry, whose capturing of Oscar Wilde's classic charisma, broken by a profound vulnerability which Fry captures through striking dramatic layers, molds a leading man more consistently engrossing than the film itself. These and other powerful performances do much to keep the heart of this drama beating, and although they cannot filter out the shortcomings, they join inspiration found off of the screen in making an endearing, if improvable final product. Once the curtains are drawn, potential finds itself too obscured by slow spells, considerable underdevelopment, overbearing points of sentimentality, and conventionalism for the final product to truly reward, but on the backs of handsome cinematography and art direction, clever highlights in writing, tasteful highlights in direction, and strong performances, - particularly those by Jude Law and Stephen Fry - Brain Gilbert's "Wilde" emerges as a plenty decent and often effective study on the fall from grace of the late, great Oscar Wile, even though it too falls from grace at times. 2.75/5 - Decent
Cameron Johnson
Super Reviewer
½
The acting was good, but Jude Law's character is so whiny and hateful, it's almost like watching two hours of an abusive relationship.
A melodrama with a wonderful portray of Wilde, but lacking the signature Wilde wit. Fry is genius, Law is less than desirable
Ken Stachnik
Super Reviewer
Wilde Quotes
There are no approved quotes yet for this movie.