Wilderness Survival For Girls
(2004)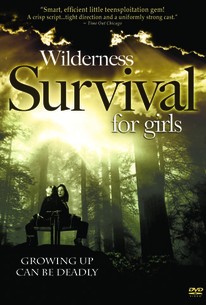 Wilderness Survival For Girls Photos
Movie Info
The thriller Wilderness Survival for Girls concerns a trio of high school girls who end up keeping a stranger captive in the woods.
Critic Reviews for Wilderness Survival For Girls
Audience Reviews for Wilderness Survival For Girls
½
I think I just love movies too much. Every movie that gets below average rating I end up loving. Wilderness Survival for Girls is about 3 girls who go on a trip to a cabin in the middle of nowhere. Now, I'm sure you think you know where this is going, but this isn't a teen scream slasher movie. This is more of a thriller and you won't know how it will end until it does. It is very suspenseful and even a little scary. It will have you thinking even after the movie ends. The plot is good and the characters are some what interesting, you don't really get to know who they are but you get a good feel for their personalities. For a low budget film the acting and camerawork are excellent. Some of the best I've seen in an independent film. Acting: 8/10 Story: 7/10 Originality: 7/10 Soundtrack: 4/10 Characters: 7/10 Scariness: 7/10 Overall: 8.7/10 (The following is my Review for the fappers 18+): Fapping to this movie can be done but it might be a little hard (no pun intended). All the girls are fairly good looking and early on you get some nice nude tits and some good ass and bra shots. Later on there's some lesbian kissing, but that's about it. SPOILER ALERT: If you're kinky there is some slight bondage later on and some crying. Fap Rating: 4/10
Professor Wizenhymer
Super Reviewer
Wilderness Survival For Girls Quotes
There are no approved quotes yet for this movie.