Willard
(2003)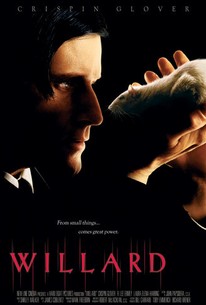 Movie Info
Willard is a social misfit who is made fun of by his co-workers. When he is squeezed out of the company started by his deceased father, his only friends become a couple of rats he's been raising at home. However, when one of the rats is killed at work, Willard goes on a rampage--exacting revenge by using his rats to attack those who have been tormenting him. Led by the unusually intelligent, and deadly rat, Ben, an army of rats descends upon the office, committing a series of grisly murders.
Critic Reviews for Willard
Audience Reviews for Willard
The remake of the 1971 film Willard starring Crispin Glover in the titular role as a social misfit who only has rats for friends is one of those remakes that is actually quite entertaining. While nowadays remakes tend to disappoint, this is an enjoyable film that is can successfully creep you out, because let's face it, rats are just gross. Crispin Glover is quite good here, and I've always enjoyed seeing him in films. He is a talented actor that be humorous and yet creepy, such is the case with Willard. Fans of the original film might like this, and it is a well crafted film that shows us that not all remakes are bad. The film is creepy and at times pretty funny, border lining on cheesy, but Crispin Glover keeps you involved and he is able to convey ridiculousness and seriousness into one performance that keeps you entertained from start to finish. Willard is a good film that keeps elements of the original intact, while freshening up the formula to create something new at the same time. You are most likely to enjoy this film if you loved the original, and though it was a good film, the original left room for improvement and this remake touches on those elements. Remakes tend to be hit and miss, but I really liked this film, it had the right amount of creepy material mixed with dark humor to make it quite a worthy update on a classic horror film. Crispin Glover is great here and he delivers in his performance as the reclusive title character. This is a prime example of a well crafted remake that is fun and entertaining from start to finish due to its cast, direction and well executed story. Although it may be silly at times, there is a certain chill factor within the film that you simply can't ignore.
MisterYoda ?
Super Reviewer
Probably only works as a horror if you're scared of rats. I don't find them particularly menacing, even as a squirming, darkly-lit, devouring mass. Willard's a clever film, though, and it's buoyed by a reliably demented performance by Crispin Glover. Fevered, desperate and lonely, it's like he wears his neuroses on his face and no one has the capacity to see them. When things fall apart, it's especially rewarding for the viewer to have been aware of this precariously unbalanced man all along; the events of the end are a surprise to everyone but us. This dissolution, again, isn't particularly frightening. With Glover and R. Lee Ermey's performances, as well as some absolutely bonkers set pieces (the cat), the ridiculousness of the film is turned up to a dull hum, and its flourishes of black comedy feel like the parts it's most comfortable with. One could probably chalk this vague disappointment up to mismarketing, in the vein of Bug, but I felt as I watched Willard that it was legitimately trying for horror. It can be squicky and uncomfortable at times, but horrific? Barely.
Drew Smith
Super Reviewer
Willard Quotes
There are no approved quotes yet for this movie.