William S. Burroughs: A Man Within
(2010)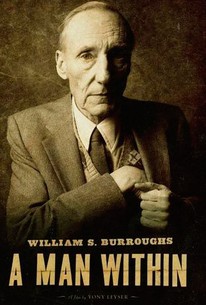 William S. Burroughs: A Man Within Photos
Movie Info
Featuring never-before-seen archival footage of Burroughs, as well as exclusive interviews with colleagues and confidants including John Waters, Patti Smith, Iggy Pop, Gus Van Sant, Genesis Breyer P-Orridge, Sonic Youth, Laurie Anderson, Amiri Baraka, Jello Biafra, and David Cronenberg, WILLIAM S. BURROUGHS: A MAN WITHIN is a probing, yet loving look at the man whose works at once savaged conservative ideals, spawned countercultural movements, and reconfigured 20th century culture. The film is narrated by Peter Weller, with a soundtrack by Patti Smith and Sonic Youth. Burroughs was one of the first writers to break the boundaries of queer and drug culture in the 1950's. His novel Naked Lunch is one of the most recognized and respected literary works of the 20th century and has influenced generations of artists. The intimate documentary breaks the surface of the troubled and brilliant world of one of the greatest authors of all time. -- (C) Oscilloscope
Critic Reviews for William S. Burroughs: A Man Within
Audience Reviews for William S. Burroughs: A Man Within
½
"I have never been gay a day in my life and I'm sure as hell not a part of any movement" Burroughs was a deconstructor of labels (of any type) and that's what especially calls my attention to him. "He opened up to me not gay culture, but gay rebels who couldn't fit in with gay culture, who were very different. (...) Burroughs has an uneasy relationship with queer culture in America, or queer writing or whatever. Burroughs was never seen as part of that, he was still too transgressive. Even when it become sort of okay to be queer, he was beyond queer".
Rubia Carolina
Super Reviewer
A Man Within is a very good film, one I think you should see, but it is stilted by a pet peevey error in pacing and a chronological mistake by bringing up Joan's death far too late. We are almost an hour into the film-and have already looked at Naked Lunch, the Beats, the dope, the rock stars, the countercultural divinity and so on-before we are at last offered an account of the events that produced all of the above. Director John Waters is on hand here, a welcome presence in so many recent documentaries, and he seems to be the only one acting as a cultural critic rather than as a friend or fan. Waters raves about how Burroughs became a gay man, a junkie, and even a punk without breaking a sweat, long before such things were even remotely acceptable or "cool". Burroughs didn't deal in remorse, certainly not for the shooting of his young wife Joan Vollmer as her death to him was far beyond that, something so terrible, "You can't fix it" and consequently he carried the guilt around with him for the rest of his days with the ghost of Vollmer everywhere.
El Hombre Invisible
Super Reviewer
½
Documentary on the famous literary outlaw, the cadaverous junkie novelist who beat the censors, and accidentally killed his wife playing "William Tell." Topics include early life, the Beat Generation, homosexuality, drug use, loneliness, and even a little bit of literature; adulatory interviewees include John Waters, Iggy Pop, Gus Van Sant, and Patti Smith. Very well put together, if not exactly penetrating, with some appropriate avant-garde visual bits stuck between the talking heads
William S. Burroughs: A Man Within Quotes
There are no approved quotes yet for this movie.