Romeo + Juliet
(1996)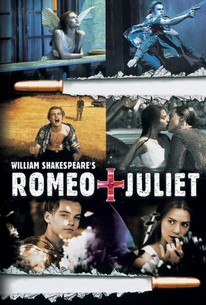 Movie Info
The classic Shakespearean romantic tragedy is updated by director Baz Luhrmann to a post-modern Verona Beach where swords are merely a brand of gun and bored youths are easily spurred toward violence. Longtime rivals in religion and business, the Montagues and the Capulets share a page from the Jets and Sharks of West Side Story when they form rival gangs. Romeo (Leonardo DiCaprio) is aloof toward the goings-on of his Montague cousins, but after he realizes that Juliet (Claire Danes) is a Capulet at the end of one very wild party, the enmity between the two clans becomes the root of his angst. He relies heavily -- and with serious consequences -- on his rebel gender-bender of a friend, Mercutio (Harold Perrineau Jr.), and Father (not Friar) Lawrence (Pete Postlethwaite) for protection and support. Romeo is, of course, exiled, and it looks like Juliet will be forced into an arranged marriage with the bland Paris (Paul Rudd). It ends, as Romeo and Juliet must, when Romeo hears a tragic piece of misinformation and brings his suicide wish to what was meant to be Juliet 's temporary tomb. This time, though, the turf and the weapon of choice have taken a turn toward the surreal. ~ Tracie Cooper, Rovi
Critic Reviews for Romeo + Juliet
Audience Reviews for Romeo + Juliet
Excellent modern adaptation of Romeo & Juliet. I love the vibrant colours, costumes and soundtrack. I'm also very impressed with the use of ole English. Leo and Claire make a good on screen couple. As usual Leo's character dies. It seems to be a recurring event, but then R&J is a tragedy. Leo is the greatest tragic hero.
Candy Rose
Super Reviewer
A fresh, very enjoyable and engrosing adaptation of Shakespeare's classic play. DiCaprio and Danes are excellent.
½
Romeo: Did my heart love 'til now? Forswear its sight. For I never saw true beauty 'til this night.  "The Classic Love Story Set In Our Time"  I found little enjoyment in this modern Romeo and Juliet. Its style was really annoying and left my head aching. This movie boarders on unwatchable. Claire Danes and Leonardo DiCaprio are okay, but they don't give amazing performances. Nothing about it worked. The film was way too busy and could have possibly worked if Luhrmann had went for a more subtle approach.  I probably went into this with too high of expectations, which were completely crushed by the first 10 minutes of the movie. In a different directors hands, this could have possibly worked. In Luhrmann's, it is a complete mess and a waste of time.
Melvin White
Super Reviewer
Romeo + Juliet Quotes
| | |
| --- | --- |
| Romeo: | Courage man the wound cannot be much |
| Romeo: | Courage man the wound cannot be much. |
| Mercutio: | To observe ask for me tomorrow and you shall find me a grave man! A plague on both your houses, they have made worms meat of me! A PLAGUE ON BOTH YOUR HOUSES!! |
| Mercutio: | To observe ask for me tomorrow and you shall find me a grave man! A plague on both your houses, they have made worms meat of me! A PLAGUE ON BOTH YOUR HOUSES! |