Win Win
(2011)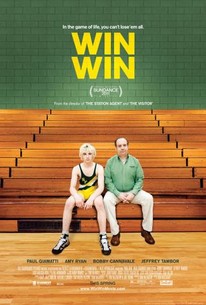 TOMATOMETER
AUDIENCE SCORE
Critic Consensus: Rich, wonderful characters and strong performances populate Win Win, with writer/director Thomas McCarthy continuing to emerge as a great American humanist.
Movie Info
Paul Giamatti headlines writer/director Tom McCarthy's comedy drama centering on a beleaguered attorney and part-time wrestling coach who schemes to keep his practice from going under by acting as the legal caretaker of an elderly client. Mike Flaherty (Giamatti) thinks he has discovered the perfect loophole to keep his practice in business. But his brilliant plan hits an unexpected hitch when his client's troubled grandson shows up looking for a place to stay. With his home life in turmoil and both of his careers in jeopardy, Mike quickly realizes that he'll have to get creative in order to find a way out of his current predicament. ~ Jason Buchanan, Rovi
Critic Reviews for Win Win
Audience Reviews for Win Win
½
Quite a glorious little indie from the dependably insightful and naturalistic writer/director Tom McCarthy, who, like with "The Station Agent" and "The Visitor," creates another atypical leading man with mundane demons and satisfying redemptions. Perennial loser-with-layers portrayer Paul Giamatti plays Mike, a hard-up estate lawyer who commits a bit of light fraud with a rich, demented client to pay his own crippling household debts. The old man's grandson, Kyle, shows up from the wrong side of the tracks in hopes of getting away from a druggie mother, and Mike takes him under his wing out of pity and guilt, then genuine caring, and the two strike up a bond over high school wrestling...that is until Kyle finds out about Mike's transgression. Alex Shaffer plays the bleach blonde Kyle with reticence but manners, and Bobby Cannavale plays the gregarious overgrown Guido-type, Terry, with charming impishness. The wrestling plot is triumphant and fast-paced, and the growing affection in this unconventional family tugs at some heartstrings. The legal subplot with Kyle's mom wanting guardianship of Leo for shady reasons is a bit convoluted and underdeveloped though; we're supposed to sympathize with Leo and Kyle who just want to be left alone in their own home, but apparently, Leo wasn't a great father and may have contributed to his daughter's drug problems. What then?
Alice Shen
Super Reviewer
½
Paul Giamatti is a superb talent that always manages to shine in his roles. Win Win is yet another one of those films that should be seen due to a great cast and wonderful story. Films like this are better than most big budget affairs because they tend to use the simplest ideas to tell a great story. The result is a movie that has some standout actors that deliver on-screen in a fun, comedic and dramatic movie that is entertaining from start to finish. The direction is great and the film's pacing is perfect with a tone goes from dramatic to comedic. Like I previously stated, Giamatti is a great actor and he delivers the standout performance of the movie that make this movie worth seeing. If you're in the mood for a well crafted drama comedy, then give this one a shot, you'll be glad you did. The film boasts a strong script that at times could have been better, but overall, the plot and acting are well rounded it out to make this an enjoyable yarn that is quite surprising. I really didn't expect much from this one, but I came out surprised. Director Tom McCarthy has crafted something special here, a movie that is fun and charming from the first frame onwards. Win Win manages to overcome its flaws due to its cast and effective directing. This is yet another great movie from Giamatti and he proves once again that he is a talented actor that can command the screen and elevate the film's material. Win Win is a great movie that you shouldn't pass up on.
It's rare to see a film that does so much with so little. Win Win takes a typical lower-middle class family, one misunderstood teenager and a senile old man and manage to create a tale that is simultaneously heart-warming and almost scary. It highlights what humanity is willing to do to get ahead, and what they can do to repent for their mistakes no matter how grave. Basically, it's far from a win-win scenario. That's the situation attorney and moon-lighting wrestling coach Mike Flaherty (Giamatti) finds himself when, in desperate need of cash, becomes the guardian of Leo Poplar (Young), who has started to lose his sense of reality. What he didn't foresee is that soon enough, Poplar's grandson, Kyle (Shaffer) pops up in town in need of a guardian too. At first his surly demeanor makes Mike's family's life even harder. However, when Kyle turns out to be a brilliant wrestler, everything starts improving and soon, they become a true family. Win Win doesn't just keep it simple though. Giamatti's character is far from perfect. He's surly and desperate, most often just thinking about his own goals. And yet, you still like him. He's an everyday man trying to do what he can to get by. Giamatti once again shows his acting chops. Shaffer does a great job in portraying the brooding teen Kyle and doesn't feel like just another teen role. The film's script and direction by Tom McCarthy are, however, what give the film the life that permeates its entirety. In particular, the conversations of the characters feel natural but often hilarious. This is a dramedy, after all, but be warned that the focus is on drama. The characters' struggles are believable and often multi-layered, and when it gets to the breaking point you feel as hopeless as Mike himself. Win Win doesn't do much with its core narrative, and you almost feel like something a bit more could've been done to make it go on a bit longer. Regardless, Win Win is a funny, touching and clever dramedy that is among the finest films released this year.
Jon Johannesson
Super Reviewer
Win Win Quotes
| | |
| --- | --- |
| Stemler: | '' I feel the force '' |
| Stemler: | I feel the force. |
| | |
| --- | --- |
| Stemler: | I feel the force. |
| | |
| --- | --- |
| Stemler: | Oh SHIT its Darth Vader!!! |
| Stemler: | Oh SHIT it's Darth Vader! |
| | |
| --- | --- |
| Terry Delfino: | They opened their kimonos, and you make them meet the train. |