Wind Chill
(2007)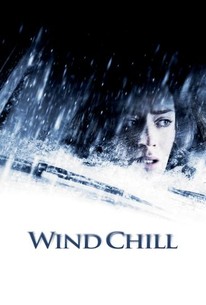 Movie Info
During Christmas break, a young woman catches a ride home from a stranger she meets through a college ride board. Racing to beat a severe winter storm, the two young travelers take a shortcut down a remote country road, only to find them selves forced into a snow bank by a mysterious vehicle that engages them in a dangerous game of chicken. Over the long night that ensues, an intense relationship develops between the pair as they must brave the elements and confront the road's sinister legacy that dates back to the terrible events that occurred there in the 1950s.
News & Interviews for Wind Chill
Critic Reviews for Wind Chill
Audience Reviews for Wind Chill
½
[img]http://images.rottentomatoes.com/images/user/icons/icon13.gif[/img] The main reason I watched Wind Chill was the fact it starred Emily Blunt. I tend to keep a fairly open mind when it comes to experiencing ridiculous horror movies that just happen to have talented actresses in them because sometimes they surprise me and turn out to be pretty good. Past examples include Christina Ricci in The Gathering and Hilary Swank in The Reaping. Despite a marvellous set up in the first twenty minutes or so the rest of the film unfortunately doesn't live up to it, I think it could have been better as a short film because as a whole it doesn't have a lot of inventive material. I essentialy found both of those movies more interesting and less baggy than Wind Chill. The film has a reasonable idea for a throwaway claustrophobic thriller but as it unfolds it annoyingly succumbs to the cliche's and groan inducing sentimentality. Not at one point did I jump and neither was I scared watching it in the slightest. It runs out of steam and gets repetitive pretty quickly and although Emily Blunt and Ashton Holmes do the best with the material they are given they alone cannot save it from it's complete lack of shivering chills. Consequently the film just loses its way, drags itself along and quite simply ended up boring me almost in it's entirety.
Directors Cat
Super Reviewer
½
Would have made an excellent short story a'la Twilight Zone, but as a feature film it was stretched a little too thin to be really powerful.
½
"There's been some pretty bad accidents on this road over the years." I'm a huge fan of Emily Blunt, and I enjoy horror movies to the point that even the mediocre ones are usually worth me checking out. Both of those things are fortunate, because Wind Chill is a mostly average horror movie that really is only worthwhile for fans of Blunt. Wind Chill is a supernatural horror flick, but you'd be forgiven for not drawing that conclusion from the first 30 or 45 minutes or so of the movie. It initially seems like it could be a thriller, as one stranger gives another one a ride home for college during the Christmas break, and he appears to be lying to her about several things, including his rather unhealthy obsession/infatuation with her. Then they have a car accident on a deserted snowy road, and the movie shifts gears again and seems to be about them trying to survive being stranded alone in the cold and ice. That goes on for a while, and then we finally get to the (somewhat underwhelming) ghost story. If Wind Chill commits one real sin, it's the fact that it's mostly boring. There's nothing scary about it. There is a bit of a mystery behind what happens to our two characters that makes the film a bit more involving as it goes on, but the horror part never "clicks". Anyway, there were some interesting ideas here, and I applaud that Wind Chill didn't just copy and paste the good parts of horror movies that came before, like modern scary movies so often do. And Emily Blunt was definitely gorgeous, and carried her role in the movie quite well. But, I find it hard to give this movie anything more than just a "fair" rating, because it's just not frightening on a psychological, visceral, or any other level.
Wind Chill Quotes
There are no approved quotes yet for this movie.