Windhorse
(1999)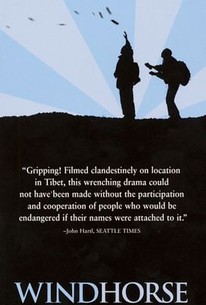 Movie Info
The story of Windhorse begins fifteen years ago high in the mountains of western Tibet. There, on a crisp autumn morning, a tiny village awakes. And three small children play at jumprope -- a brother and sister, Dorjee and Dolkar, and their cousin, Pema. But the idyllic scene is shattered by a sudden gunshot which takes the life of the children's grandfather. Abruptly, the scene shifts to present day Lhasa, the capitol city of Tibet, where we get a portrait of the threesome as young adults. The sister, Dolkar, has attracted a boyfriend -- a successful Chinese man named Duan-ping. With his help, Dolkar gets the attention of a high-ranking Chinese government official who can make her a recording star. It would mean money and security for her and her family. But her brother is totally disgusted. Dorjee spends his days with friends in a snooker hall and his nights getting drunk. We also see fleeting aspects of a Tibetan underground political movement in the person of Dorjee's old friend, Lobsang. Since their days in the village, Dolkar and Dorjee have lost contact with their cousin, Pema, who has become a Buddhist nun. In an early scene, Pema listens in disbelief as Chinese officials ban the display of photos of their spiritual leader, the exiled Dalai Lama. Within days, one of the nuns is arrested for defying the ban. Pema's anger and frustration leads her to spontaneously shout "Free Tibet" in the square in front of the central Buddhist temple in Lhasa. Immediately she is arrested and thrown in prison.
Critic Reviews for Windhorse
Audience Reviews
There are no featured reviews for Windhorse at this time.
Windhorse Quotes
There are no approved quotes yet for this movie.