Windtalkers
(2002)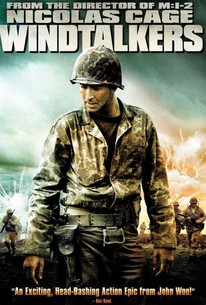 TOMATOMETER
AUDIENCE SCORE
Critic Consensus: The action sequences are expertly staged. Windtalkers, however, sinks under too many clichés and only superficially touches upon the story of the code talkers.
Movie Info
Loosely based on a real-life operation during World War II, this action-adventure from director John Woo stars Nicolas Cage as Joe Enders, a Marine traumatized by the loss of his entire platoon in the Solomon Islands during an ambush he believes was deadlier than necessary due to his indecision. Suffering from eardrum damage in Hawaii, Joe manages to be declared fit for duty once again thanks to a sympathetic nurse (Frances O'Connor), but his new assignment isn't what he expects. Joe is ordered to safeguard a Navajo soldier named Ben Yahzee (Adam Beach) because the military has developed a new secret code based on the near-dead Navajo language that is proving unbreakable to the Japanese. Any soldier that speaks Navajo is an immediate asset, including Ben and his pal, Charlie Whitehorse (Roger Willie). Joe's orders are to "baby sit" Ben during the invasion of Saipan, protecting him if possible, but -- if the code-talker's capture becomes imminent -- to kill him before he falls into enemy hands. Meanwhile, Charlie is to be guarded by affable harmonica player Ox Henderson (Christian Slater). Joe reluctantly accepts this new duty as a way to get back into the war, and in the ensuing carnage, his nearly suicidal acts of bravery make him a hero while Ben becomes paralyzed by fear. Determined to live up to Joe's example, Ben musters up his courage, even in the face of racism from a fellow soldier (Noah Emmerich), and ends up rescuing his own protector behind enemy lines by briefly posing as a Japanese soldier. Despite their growing mutual respect, Joe is eventually forced to take an action that threatens to shatter his bond with Ben, as the war's tragic losses strike closer to home for both men. Windtalkers co-stars Peter Stormare, Jason Isaacs, and Mark Ruffalo.
News & Interviews for Windtalkers
Critic Reviews for Windtalkers
Audience Reviews for Windtalkers
An insult to Native Americans. In this film, you may find yourself rooting for the Imperial forces of Japan to kill Nicholas Cage and put an end to our suffering.
Christian C
Super Reviewer
½
worst WWII movie ever. Plus, the setting of WWII was already broken once Nicolas Cage came onscreen.
Windtalkers is by far one of the most innacurrate war films, I've seen in a long time. Nick Cage is very hit and miss, and Windtalkers is another miss for him. The plot is very bad, the actors, some good are wasted on this sorry excuse of a film. This is a terrible war film to avoid. This is a typical hollywood war film with really no research done, and it shows. A very bad film, with no elements in the story to make this a winner. This is a war film that will be remembered as a dud. Theres nothing interesting or good here. It's however a bad waste of time. Watch Letters From Iwo Jima instead.