Wine Country
(2019)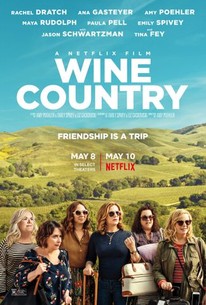 TOMATOMETER
AUDIENCE SCORE
Critic Consensus: Wine Country's comedy might not be quite as robust as fans of this ensemble will expect, but it's got sweetness on the nose and a nicely balanced finish.
Movie Info
In honor of Rebecca (Rachel Dratch)'s 50th birthday, Abby (Amy Poehler) plans a scenic Napa getaway with their best, longtime friends. Workaholic Catherine (Ana Gasteyer), post-op Val (Paula Pell), homebody Jenny (Emily Spivey), and weary mom Naomi (Maya Rudolph) are equally sold on the chance to relax and reconnect. Yet as the alcohol flows, real world uncertainties intrude on the punchlines and gossip, and the women begin questioning their friendships and futures.
News & Interviews for Wine Country
Critic Reviews for Wine Country
Audience Reviews for Wine Country
Saturday Night Live has shot many actors and actresses to super-stardom throughout the years and even gotten certain members Oscar nominations. Even though that hasn't happened to many of them, there are a few that stand out among the rest, including the likes of the stars of Netflix's most recent feature film in Wine Country. From Amy Poehler to Rachel Dratch, there is a lot of talent littered throughout this film, so my question is, what went wrong here? Let's dive into why I believe this is one of the most disappointing comedies I've seen in a while, but also why it's forgivable. Following a group of women, as they reunite after some time apart, they embark on a wine tour in Napa Valley and a series of character scenes take you through the full 100 minutes. From realizing what their friendship means to one another, to learning shocking revelations about their daily lives, this is the type of screenplay that should've been written by the likes of a Richard Linklater. An entire film based solely around characters talking to each other can work, but not if the dialogue feels stale and the comedy feels uninspired. I love pretty much everyone involved with this film, but the behind-the-scenes portion of this film is where I fear it all went wrong. Having directed only a few television sitcom episodes throughout the years, Amy Poehler decided to take a crack at making a feature film. Sadly, I think Poehler's dedication to making a stellar comedy is what ultimately made this movie fail as a whole. There is care put into this production and the budget it clearly kept very minimal, as the entire film only has a few locations. Everything about this film felt standard and safe, but nothing stood out as terrible, aside from a few awkward choices in cinematography area. I can see her improving over time and eventually directing a film that will hit theatres become beloved by many, but Wine Country just isn't that film. In the end, Wine Country is a film that had a lot of potential and even seemed to hold that potential throughout the entire duration, but never once took advantage of it. I found myself incredibly bored throughout the majority of this movie, aside from a few solid one-liners that had me chuckling. Every one of these actresses has been in better comedies or at least deserve to be a part of better comedies. I don't believe Wine Country is worth your time, even with the ease of it being available on Netflix.
Wine Country Quotes
There are no approved quotes yet for this movie.