Wings in the Dark
(1935)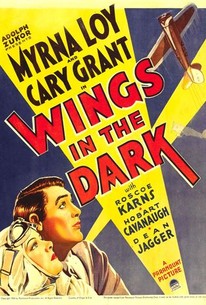 AUDIENCE SCORE
Critic Consensus: No consensus yet.
Movie Info
MGM loaned Myrna Loy to Paramount to co-star with Cary Grant in the roller coaster-paced romantic drama Wings in the Dark. Loy plays daredevil aviatrix Sheila Mason, who marries Ken Gordon (Grant), a flyer with serious aspirations to set groundbreaking world records. When Ken is accidentally blinded just before he jets off for Paris, Sheila prompts him to continue working at any cost. He decides to become a writer, dictating his work and mailing it off to several magazines; all he receives for his trouble is a pile of rejection slips, but Sheila doesn't let him know that. In the mean time, he works out a fantastic invention -- a plane designed for "blind flying," which enables the pilot to command the craft without the use of his eyes. His plane is repossessed for lack of payment, cluing him into what Sheila has been up to with his articles. Infuriated, he severs all communication with her. In an effort to drive Grant out of her mind, Sheila then undertakes a Moscow-to-Manhattan flight and thus attempts to set a new world record of her own. But on the last leg of her journey -- over Boston -- she becomes surrounded by thick blankets of heavy fog, and cannot locate the airport. At the last moment, Ken steals his own plane from Roosevelt Field, takes it up, and uses it to guide Sheila back to the ground, where he declares his undying love and devotion to her.
Critic Reviews for Wings in the Dark
All Critics (3) | Fresh (3) | Rotten (0)
Myrna Loy is charming, and Carey Grant makes the best of a part unsuited to him. Has some thrilling flying stuff, especially in the climax.
There has been such a long rest from flying pictures that it is quite a thrill once more to watch death-cheating aviators making spirals and cartwheels half a mile wide above the clouds.
...the novelty of watching Grant play a blind guy keeps things interesting for a while...
Audience Reviews for Wings in the Dark
Great actors, great story, great movie. It's really exciting and dramatic. I really liked it. If your a fan of Grant you should see this movie.
Wings in the Dark Quotes
There are no approved quotes yet for this movie.