The Wings of Eagles
(1957)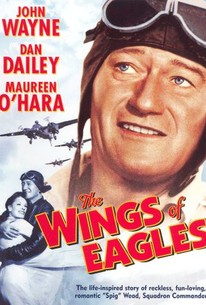 The Wings of Eagles Photos
Movie Info
The Wings of Eagles is filmmaker John Ford's paean to his frequent collaborator--and, it is rumored, drinking buddy--Cmdr. Frank "Spig" Wead. John Wayne stars as Wead, a reckless WW1 Naval aviator who (it says here) was instrumental in advancing the cause of American "air power". In private life, Wead becomes estranged from his wife Minnie (Maureen O'Hara) after the death of their baby. Drinking heavily, Wead tumbles down the stairs of his home, and as a result he is apparently paralyzed for life. With the help of happy-go-lucky Navy mechanic Carson (Dan Dailey), Wead is able to regain minimal use of his legs, but it seems clear that his Naval career is over. Fortunately, he manages to find work as a prolific Hollywood screenwriter, and after the attack of Pearl Harbor he is called back to active duty to oversee the construction of "jeep carriers". Not one of John Ford's more coherent films--in fact, it's downright sloppy at times--The Wings of Eagles nonetheless contains several highlights, not least of which are the "I'm gonna move that toe" scene with John Wayne and Dan Dailey, and Ward Bond's inside-joke performance as irreverent film director "John Dodge".
Critic Reviews for The Wings of Eagles
Audience Reviews for The Wings of Eagles
½
John Ford's follow-up to The Searchers is surprisingly un-remarkable. A biopic of Frank "Spig" Wead, a solider turned cripple turned screenwriter, "The Wings of Eagles is an impeccably crafted piece of fluffy propaganda.
Ken Stachnik
Super Reviewer
½
An excellent and often-moving biopic about navy-flier-turned-screenwriter Frank "Spig" Wead, this film features fine dramatic performances from John Wayne and Maureen O'Hara. Features the usual John Ford elements of sentimentality and brawling slapstick, but there's also an underlying poignancy that makes this a treat.
Dean McKenna
Super Reviewer
A movie that's powerful enough to make a grown man cry. John Ford tells the story of Frank Spig like no one else could have. With a combination of great action sequences and intimate character moments, this becomes more than just an average movie. John Wayne delivers a powerhouse performance, like always, and makes you truly admire Spig. It's such an uplifting and human story which shouldn't be missed by anyone.
Conner Rainwater
Super Reviewer
The Wings of Eagles Quotes
There are no approved quotes yet for this movie.