Winnie the Pooh
(2011)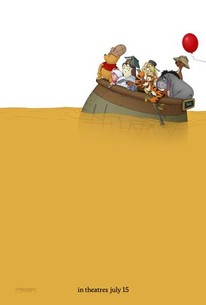 TOMATOMETER
AUDIENCE SCORE
Critic Consensus: Short, nostalgic, and gently whimsical, Winnie the Pooh offers young audiences -- and their parents -- a sweetly traditional family treat.
Movie Info
Walt Disney Animation Studios returns to the Hundred Acre Wood with Winnie the Pooh. Featuring the timeless charm, wit and whimsy of the original featurettes, this all-new movie reunites audiences with the philosophical "bear of very little brain" and friends Tigger, Rabbit, Piglet, Owl, Kanga, Roo-and last, but certainly not least, Eeyore, who has lost his tail. "Ever have one of those days where you just can't win, Eeyore?" asks Pooh. Owl sends the whole gang on a wild quest to save Christopher Robin from an imaginary culprit. It turns out to be a very busy day for a bear who simply set out to find some honey. Inspired by three stories from A.A. Milne's books in Disney's classic, hand-drawn art style. -- (C) Walt Disney
News & Interviews for Winnie the Pooh
Critic Reviews for Winnie the Pooh
Audience Reviews for Winnie the Pooh
½
Everything that made the first Winnie the Pooh animated feature so adorable (the official one, also by Walt Disney Animation Studios) is found here too, from great songs to adorable stories, and it is a delightful return to the traditional hand-drawn animation of the old days.
Carlos Magalhães
Super Reviewer
Eeyore has lost his tail. There's a competition to find him a new tail.
Candy Rose
Super Reviewer
½
A strong revamp from Walt Disney, Winnie the Pooh is as sweet and nostalgic as the original was back in the seventies. Using newer voice actors, most of whom are spot on, this version has some of the same basic plot points as the original. Pooh is still as sumptuous and gluttonous as ever, masked by his neverending quest for some honey, to be with his good friend Christopher Robin, and spend his summers with his friends in the Hundred Acre Wood. The original looks more on the storytelling aspect of A.A. Milne's books, while this version is more intent on focusing on the characters and their eccentricities. While it loses some of its saccharine innocence by presuming the audience knows everything about the books, films, and television series, it still focuses on their blunders and misunderstandings, which is trivial yet enjoyable. The new songs are refreshing and catchy as ever. Tigger is still ignorant yet filled with boundless energy, Kanga and Roo still come off as a motherly presence and her son, and Piglet is still the unassuming little voice. It has been noted that these are the figments and pieces of Christopher Robin's psyche, which is evident, and makes their actions and inactions all the better. There are several shorts put together just like the original, and each is as childlike and true as the airy voice of Winnie the Pooh. A great way to delve back into my childhood and my love for Tigger, who shines yet again as the blustered misanthrope.
Spencer S.
Super Reviewer
Winnie the Pooh Quotes
| | |
| --- | --- |
| Backson: | [Spots the items] Wow! It's amazing what you can find in the woods! [Picks up a marble] A marble! [Picks up a boot] And a boot! [Picks up a picture of himself roaring] And oh my! [Points at the picture] That's a scary-lookin' fella! Gosh! Maybe these are his things! You know, I better pick them up so they won't get broken. That's the last thing I would want. [Falls into the pit] WHOA! Oh, my gosh! Is this a pit?! I think I'm in a pit! Hello! Anybody up there? Oh, well. I sure hope that fellow will be back soon. |
| Backson: | [spots the items] Wow! It's amazing what you can find in the woods! [picks up a marble] A marble! [picks up a boot] And a boot! [picks up a picture of himself roaring] And oh my! [Points at the picture] That's a scary-lookin' fella! Gosh! Maybe these are his things! You know, I better pick them up so they won't get broken. That's the last thing I would want. [Falls into the pit] WHOA! Oh, my gosh! Is this a pit?! I think I'm in a pit! Hello! Anybody up there? Oh, well. I sure hope that fellow will be back soon. |
| | |
| --- | --- |
| Rabbit: | Good grief! Tie them together, Piglet! Can you tie a knot? |
| Piglet: | I cannot. |
| Rabbit: | Ah, so you CAN knot. |
| Piglet: | No. I cannot knot. |
| Rabbit: | Not knot? |
| Winnie the Pooh: | Who's there? |
| Rabbit: | Pooh! |
| Winnie the Pooh: | Pooh who? |