Winter Passing
(2006)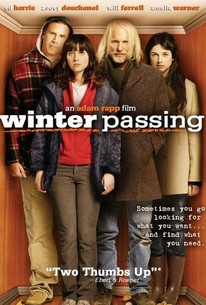 Movie Info
Money and emotions lead to a difficult reunion between a father and daughter in this drama. Reese Holden (Zooey Deschanel) is a struggling stage actress in New York City whose life has become an uphill struggle -- her career isn't giving her satisfaction, her relationship with would-be rock star Ray (Dallas Roberts) is stuck in neutral, an affair with her friend Rob (Robert Beitzel) brings no excitement, and her colleague Deirdre (Deirdre O'Connell) simply doesn't understand her problems. Reese is also short on money, which is why she's willing to listen to a proposal from a publisher who wants to release a series of love letters that her mother, a well-known author who died years ago, wrote to her father, Don (Ed Harris), another respected novelist who has fallen out of the limelight but is said to be working on a final major work. Having accepted an advance for the collection, Reese pays a visit to Don in Michigan to get his OK for the project and collect the letters, but discovers two strangers have moved in with Don -- Shelly (Amelia Warner), who studied under Don and has installed herself as his business manager, and Corbit (Will Ferrell), a neighborhood sad sack who helps with the housekeeping and runs errands for the reclusive writer. As Reese vies with Shelly for her father's attention, she struggles to come to terms with issues from her childhood and the dissatisfaction with her life. Winter Passing was written and directed by noted playwright Adam Rapp; it was his first feature film.
News & Interviews for Winter Passing
Critic Reviews for Winter Passing
Audience Reviews for Winter Passing
Head over heels in love with this movie. It's slower paced, it's heavy, but it's brilliant. The acting is so natural and beautifully done that you forget that these people are not real. Zooey really is a superb actress and this film seriously shows her ability to pull anything off. My favorite movie of hers so far without a doubt. The best line in the movie: "I just can't believe this is the same man who told his six-year-old daughter that Christmas was a Republican capitalistic conspiracy created by the Hallmark Corporation and that, if Jesus were alive today he'd be down in Nicaragua rallying the Sandinistas. Grace away." I laughed so hard that I had to go back and play the five minutes after that line to re-watch what happens.
Leigh Ryan
Super Reviewer
Winter Passing is so easy to fall in love with that it almost seems like there should be a catch. All the characters are delightfully off-color and messed up. Zooey Deschanel gives what is probably her best act yet, but also plays out of those protagonists that really are not *nice* people at all and are all the more lovable because of it. She has flaws and problems, but you cannot help but love her. Will Ferrell is not bad, I never thought I would have reason to say that. He should stick to these type of roles. The film really is not heart-stoppingly original. It reminded me a lot of Junebug or even Little Miss Sunshine. I guess you could say that this type of film, the stereotyped indie film, is to me what a rom-com is to a twentysomething romantic. Or to a high school cheerleader. It's a toss up between the two. One final note, this also has a scene that me cringe, something that hardly ever happens, but at the begin Deschanel drowns a kitten! That is just sick! It is easy enough to laugh of Johnny Depp slashing throats, but drowning kittens is just nasty!
½
Ah, another tale of a lost, disaffected young person that fruitlessly tries to fill their empty life with empty sex and drugs, and the family dynamics that led them to become that way. You know how these stories go. By the end, there's always some kind of acceptance and catharsis, and the characters end up with better relationships than when they started. Since most family dramas begin and end in somewhat the same manner, it's that middle journey that makes or breaks them, for me. How and why do the characters change? Winter Passing largely skips right over the how and why. For 90% of the movie Zooey Deschanel's and Ed Harris's characters are one way, and then in the last ten minutes they are suddenly completely different. I was so confused that I went back to check and see if I had unknowingly missed some crucial plot points or character development, but I hadn't. The viewer is actually expected to believe that these characters undergo profound and drastic changes as a result of about two brief conversations and a hospital visit. It's like they took a vague idea of a plot, and then filled in the runtime with melancholy gazing out of windows and lots of slow cigarette smoking. As for the other two main characters, they never really contributed anything of substance to the story. I suppose Amelia Warner's character was included to provide some initial friction for Reese and offer her another insight into her father's personality, and she looked so beautiful doing it that I'm willing to cut her some slack. But Will Ferrell's character was completely unnecessary. All he did was add forced quirkiness to a movie that absolutely did not need it. It didn't even fit the tone, and his sub-plot was a pointless way to pad out the running time. I didn't hate Winter Passing, I just thought that its story needed a lot more thought, focus, and fleshing out. It feels incomplete. Family drama is among the most character driven genres, and they just don't work well without strong and well-defined character arcs.
Winter Passing Quotes
There are no approved quotes yet for this movie.