Winter Solstice
(2005)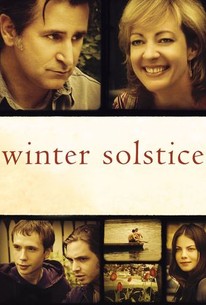 Movie Info
A family struggles to come to terms with changes after a death in the family in this independent drama. Jim Winters (Anthony LaPaglia) is a widower living in suburban New Jersey with his two teenage sons, Gabe (Aaron Stanford) and Pete (Mark Webber). Pete, the younger of the siblings, has a hearing problem that has made school difficult for him; consequently, he has lost interest in his education and spends most of his time goofing off. Gabe is smarter and more ambitious, and has a stable relationship with his girlfriend, Stacey (Michelle Monaghan), but is beginning to chafe at the limitations of small-town life. And five years after his wife's death, Jim still hasn't been able to pick up and start his life over again. When Gabe announces he's decided to move to Florida, it has differing effects on those around him -- Stacey, hurt and confused, begins to withdraw; Pete strikes up a friendship with one of his teachers (Ron Livingston); and Jim struggles to work up the nerve to talk to his new neighbor, Molly Ripkin (Allison Janney. Winter Solstice was the first feature film from writer and director Josh Sternfeld; it won enthusiastic notices following its screenings at the 2004 Tribeca Film Festival.
Critic Reviews for Winter Solstice
Audience Reviews for Winter Solstice
Not very exciting, but a pretty accurate depiction of what a real persons life is like. And as such there was really no plot, or climax, or ending. Still somehow it wasn't boring, so they did something right.
Curtis Lilly
Super Reviewer
A great film! Very touching story about a widower and his two sons, and the struggle to have to overcome to get over the death of a wife and mother.
½
Story about dealing with a loss in the family and the difficulties of parents understanding teens and vice versa. There is a certain slowness or lulling rhythm to the film
Winter Solstice Quotes
There are no approved quotes yet for this movie.