Winter's Tale
(2014)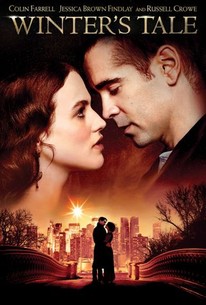 TOMATOMETER
AUDIENCE SCORE
Critic Consensus: Winter's Tale tries to retain the grandiose sweep of its source novel, but fails to fill it in with characters worth rooting for or a sensible plot.
Movie Info
Set in a mythic New York City and spanning more than a century, "Winter's Tale" is a story of miracles, crossed destinies, and the age-old battle between good and evil. The film stars Colin Farrell ("Total Recall"), Jessica Brown Findlay (TV's "Downton Abbey"), and Oscar (R) winners Jennifer Connelly ("A Beautiful Mind"), William Hurt ("Kiss of the Spider Woman"), Eva Marie Saint ("On the Waterfront") and Russell Crowe ("Gladiator"). "Winter's Tale" also introduces young newcomers Ripley Sobo and Mckayla Twiggs (both from Broadway's "Once"). The film marks the directorial debut of Academy Award (R)-winning screenwriter Akiva Goldsman ("A Beautiful Mind"), who also wrote the screenplay, based on the acclaimed novel by Mark Helprin. Goldsman is also producing the film with Marc Platt ("Drive"), Michael Tadross ("Sherlock Holmes") and Tony Allard (Showtime's "The Baby Dance"). The executive producers are Kerry Foster and Bruce Berman. The behind-the-scenes creative team includes five-time Oscar (R)-nominated director of photography Caleb Deschanel ("The Passion of the Christ," "The Patriot"), production designer Naomi Shohan ("Constantine," "I Am Legend"), costume designer Michael Kaplan ("Mission: Impossible - Ghost Protocol," "Star Trek") and editors Wayne Wahrman ("I Am Legend") and Oscar (R) nominee Tim Squyres ("Life of Pi," "Crouching Tiger, Hidden Dragon"). The music is composed by Oscar (R) winner Hans Zimmer ("The Lion King," "Inception," "Man of Steel"). A presentation of Warner Bros. Pictures, in association with Village Roadshow Pictures, "Winter's Tale" opens February 14, 2014 and will be distributed by Warner Bros. Pictures, a Warner Bros. Entertainment Company, and in select territories by Village Roadshow Pictures. (c) Warner Bros
News & Interviews for Winter's Tale
Critic Reviews for Winter's Tale
Audience Reviews for Winter's Tale
½
This is not a true story. This is true love. Mediocre Movie! Swimming somewhere in the reams of quite lovely footage assembled by Goldsman and his cinematographer Caleb Deschanel, there's a great movie with great ideas. Once in a while, it bursts through - in the shadowy, dank dungeon of a demon's lair, ruled by Lucifer himself; or the snow- swept sparkle of a moonlit night - but, more often than not, it turns into Winter's Tale: an emotionally distant romantic drama that goes for lush, sweeping depth but comes up curiously cold and myopic New York City is subsumed in arctic winds, dark nights, and white lights, its life unfolds, for it is an extraordinary hive of the imagination, the greatest house ever built, and nothing exists that can check its vitality. One night in winter, Peter Lake (Colin Farrell), orphan and master-mechanic, attempts to rob a fortress-like mansion on the Upper West Side. Though he thinks the house is empty, the daughter of the house is home. Thus begins the love between Peter, a middle-aged Irish burglar, and Beverly Penn (Jessica Brown Findlay), a young girl, who is dying.
½
When I saw the trailer for this I thought this looked pretty good, and very different. While it is different, it didn't really work for me. It's very melodramatic and cheesy. But worse of all, it takes itself way too seriously. Had this movie had a real sense of humor, I think it could have been very good. It's hard to summarize, but it's about angels against demons, and it takes place over a century. The cast is good, but they've all done much better. In time, I can see people growing more fond of it. Hell, maybe another viewing or too and I would change my opinion. But based off my one viewing, I didn't care for it. Emily didn't really like it either, but she usually isn't into the movies with magic and stuff. I'd say the only movie that you could compare to this, in a weird way could be "Legend". But that is much, MUCH better. Good for a one time watch, but most people may not finish it.
Everett Johnson
Super Reviewer
Winter's Tale manages to be an enthralling drama that if you're looking for a mindless romantic drama, is worth seeing, but is a film that could have been better as well. Although I did like it, the film just gets a bit too confusing at times, I guess you have to suspend any logic here to enjoy, and if you do that, then you might find the film, mindless entertainment, which in the long run is exactly that. I wanted a film with a bit more depth to the story, and the idea here is quite good, but the story does fall short of its potential, and it leaves a bit to be desired. The cast do what they can to make this a pleasant experience, and like I said, it is, if you leave your brain at the door. The cast are entertaining, but at times, some aspects of the film feels strained, and it tries to outdo its ideas, which makes the story suffer a bit. Nonetheless, Winter's Tale is fun for what it sets out to do, and is worth a look if you have nothing else better to watch, just don't expect a grand romance film, as you'll be disappointed. The idea is great, but the script feels a bit strained, and the ideas never really materialize into something you can truly sink your teeth into. But if you're looking for a pleasant timewaster, Winter's Tale is good, yet never great. One might think how great the film could actually have been if a bit more effort could have been put into the story to really make it a standout dramatic picture. Enjoyable, but flawed, Winter's Tale is one of those movies that just is worth checking out, not in theatres, but on TV or rental. Colin Farrell is good here, but has made far better films, however despite this, he makes the film much better, and I quite liked him in the lead, as well as Russell Crowe. Entertaining viewing if you have nothing else to watch, Winter's Tale is one of those movies that makes you want a bit more out of the film.
Winter's Tale Quotes
There are no approved quotes yet for this movie.