Wish I Was Here
(2014)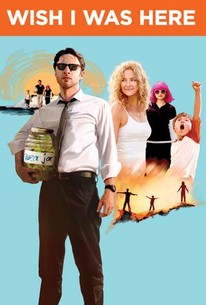 TOMATOMETER
AUDIENCE SCORE
Critic Consensus: There's no denying Wish I Was Here is heartfelt, but it covers narrative ground that's already been well trod -- particularly by director Zach Braff's previous features.
Movie Info
Director Zach Braff's follow-up to his indie breakout hit "Garden State" tells the story of a thirtysomething man who finds himself at major crossroads, which forces him to examine his life, his career, and his family. (c) Focus
Critic Reviews for Wish I Was Here
Audience Reviews for Wish I Was Here
½
You can tell that director Braff is trying to repeat the quirkiness and humor of his masterpiece Garden State, just with a much bigger budget (which makes for a damn fine looking film). And it actually works for most of the film, sadly not all of it. Still, overall his take on death, family and religion is funny, touching and raises some very good and refreshing points. The actors are great and Braff still know great songs to pick for the right moments. Most importantly, many of the scenes are very memorable.
½
Zach Braff's crowd-funded sophomore effort received a lot of flack for its privileged genesis, its grammatically incorrect pseudo-clever title, and its oblique trailer full of indie-pretentious images that drew inevitable comparisons to Braff's polarizing "Garden State." However, I was pleasantly surprised that "Wish I Was Here" is NOT just a continuation of Andrew Largeman's ennui-driven love story. The movie is a realistic and funny treatment of early Millennial adulthood and its responsibilities of unruly kids, libido-less spouses, estranged siblings, and reconnecting with once tyrannical and now dying parents. Aidan Bloom is a dopey suburban dad who has to homeschool his kids after his father defaults on their yeshiva tuition due to exorbitant medical bills. Aidan's brand of guerilla life lesson is random and uplifting but not in a way that insists upon itself. The local color of Los Angeles is quirky and moving with the disparate cultures of "Yom Kippur Jews," audition-circuit actors, and furry cosplayers. Brown Bear Donald Faison also cameos in an irreverent little misunderstanding that blends the cancer motif with the sheitel (wig) motif of Orthodox Judaism. The kid actors are adorable: Joey King is a sweet, bright-eyed innocent, and Pierce Gagnon is as hilariously foulmouthed in this as he was creepy in "Looper." Kate Hudson is nicely glam-glum as the working mom who lost track of her dreams, but her character tips into "long-suffering-wife" territory with no true motivation or credit. When her erstwhile disapproving father-in-law gives her the rare compliment that she has the power to be a great matriarch someday, she counters, "I already am a great matriarch." She should have just stopped there instead of negating her power with, "Well, I'm trying anyway." The reconciliation plot between father and sons is a bit cloying and sentimental, but on the whole, the movie is joyful, especially the end montage of little happinesses experienced in the moment before daughter Grace resurfaces from her first purifying foray into the water. I wouldn't say it's better than "Garden State" as a whole though. Despite the predecessor's reliance on the hipster atmospheric aesthetic, it really WAS the height of the mid-aughts' affected yet affecting quarter-life crisis movie - with its non sequitur humor, indie soundtrack, and tap-dancing Natalie Portman at her most heart-swelling. "Wish I Was Here" is beautifully nostalgic for the present, but it doesn't seem to commit hard enough.
Alice Shen
Super Reviewer
A family man faces some familial life challenges ... with his family. That seems to be about the gist of the thing, cue the indie music score, cue some shots of sunlight sparkling over the surf. Heartfelt perhaps, but also markedly contrived, a Hallmark card of a film. My one beef with the work: whyzit every time the family is doing family things the Ma (Kate Hudson, effervescent) is never around? Wazzup with that?
Kevin M. Williams
Super Reviewer
Wish I Was Here Quotes
There are no approved quotes yet for this movie.