Wishmaster
(1997)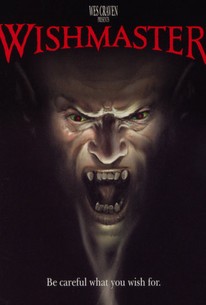 TOMATOMETER
AUDIENCE SCORE
Critic Consensus: Wishmaster searches for horror in the exploits of a supernatural being -- one whose powers, alas, evidently do not include the ability to summon a compelling script.
Movie Info
"Be careful what you wish for; you just may get it." Such is the ominous theme underlying this extremely gruesome horror outing. Though horrormeister Wes Craven's name appears prominently in the film's promotional bits, Craven served as the executive producer while former special effects wizard Robert Kurtzman did the directing. The premise is that a hideous Persian djinn (pronounced "jin" and meaning "genie") from the 12th century is trapped in a beautiful opal that is hidden in a statue and ends up in the hands of 20th-century Los Angeles gemologist Alexandra Amberson (Tammy Lauren). While examining the rare stone, Alexandra inadvertently releases the malevolent djin (Andrew Divoff) who wants to take over the world but cannot until his awakener makes three wishes. As soon as he is released, the djin abandons his natural form as a disgusting cockroach monster in favor of the handsome Nick (Chris Lemmon), another gemologist. Unfortunately for the djin, she is not the wishful sort. While trying to convince her to wish, Nick amuses himself by granting the wishes of others in horrible ways.
Critic Reviews for Wishmaster
Audience Reviews for Wishmaster
Wishmaster is an interesting idea for a horror flick. The film presents the viewer with the plot of an evil genie who grants you three wishes, but destroys your life without you enjoying what you desire. The actor playing the Djinn, Andrew Divoff is good here, and he makes the film better. The film tends to rely on excessive violence and gore to create the horror. In some way it tries to elevate the film a bit. However, it doesn't really work at times. This is still entertaining for what it is, but the script does show its limitations, and you know that it could have been much better. With this film they just stuck with a traditional formula for horror violence, instead of exploring further the concept of an evil genie. I think the film at times lacked focus, and it brought it down a notch. If you're looking for a good film, then this is it. However don't expect anything remarkable. With its interesting idea, I was surprised how under developed the film was. I felt that it was a good flick, but it lacked something to really make it stand out, and be of real interest for horror fans. Expect something good with this one, and you may not be disappointed. Despite its interesting idea, Wishmaster ends up just being another gore induced horror flick. Though entertaining, this could have been a far better film too. For what it is, this is a mindless horror film worth watching because of its interesting ideas. However, you are left wanting more out of this film as well. Aside from lots of gore, which may appeal to the gore hounds out there, this film doesn't offer anything really remarkable in terms of genuine chills and terror.
The director began as a makeup artist ... which means lotsa makeup effects, lots of them (its the reason for the film), but with a lame-o script there's not a lot of reasons for them. Still the premise is good even if the execution leaves a lot to be desired, and so its a good night with a bad movie.
Kevin M. Williams
Super Reviewer
A fun idea for a new slasher premise, at least 3 sequels were made. The SFX do look a bit dated now and the gore effects, along with a lot of elements to the film do look a little low budget. With Wes Craven as exec producer and starring Robert Englund and cameos by Tony Todd and Kane Hodder adds a few nice touches for the horror fans. Andrew Divoff plays the evil Djinn very well and with a dark sense of humour. It is a bit cheesy but has a certain charm to it, one for gore fans and horror buffs will enjoy it more than most.
Wishmaster Quotes
There are no approved quotes yet for this movie.