Wit
(2001)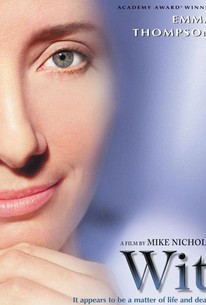 Movie Info
Mike Nichols directs Emma Thompson in this made-for-cable adaptation of the Pulitzer Prize-winning drama by Margaret Edson. Thompson plays Vivian Bearing, a college professor who teaches a course on English poetry. Vivian learns that she has advanced ovarian cancer and only a short time to live, which gives her a sudden and dramatic insight into the importance of kindness and compassion. Wit also features Christopher Lloyd, Eileen Atkins, Audra McDonald, and Jonathan Woodward as Dr. Jason Posner, a former student of Vivian's who helps treat her.
Audience Reviews for Wit
½
A bit of a labor of love for Thompson and Nichols who co-wrote the screenplay about a hardnosed, uncompromising English scholar who's diagnosed with stage 4 ovarian cancer, and because of this, desperate for the human contact she previously disrespected. Often gloomy and slow, the saving grace is Nichol's gentle and caring presentation of Thompson's heartfelt. performance
Kevin M. Williams
Super Reviewer
½
I've seen this twice and I loved it both times. It's a real emotional kick in the pants, especially the orange popsicle scene right before the DNR climax. Also, Jonathan Woodward is absurdly good looking in this film, though he is not usually in other things he does.
Jennifer Xu
Super Reviewer
Beautiful work by Emma Thompson and Audra McDonald but profoundly sad. More to be appreciated than enjoyed. Lovely cameo by Eileen Atkins.