Witchboard
(1986)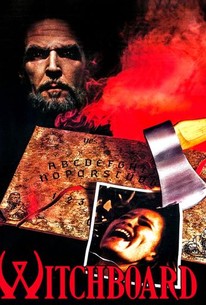 Movie Info
When a young girl uses a Ouija board, she communicates with the helpful spirit of a little boy. Suddenly though, a killer starts picking off her friends one by one. Typical horror film manages to churn out an original moment here and there.
Critic Reviews for Witchboard
Audience Reviews for Witchboard
Witchboard is a delightfully creepy Horror film, with moments of tense suspense. Directed by the man who brought us Night of the Demons, Witchboard is a neglected low-budget gem of late 80's Horror. Kevin Tenney is a fine director and he once again proves it with this film. Witchboard is a great film, if you don't take it seriously. People are quick to judge on this film, without really trying to grasp the concept. The premise of the film is quite interesting, using the Ouija Board as a plot device is an idea not seen since The Exorcist, and instead of conjuring up a Demon, the evil spirit this time around is that of a mass murderer. In way this can branch into slasher film territory just for that aspect of the film, but it still retains a lot of its supernatural elements. Witchboard is a film that is a lot of fun; just don't take it seriously or anything. This is the type of film where you just need to unwind and enjoy something that's different. The pacing of the film is well done, and it permits the director to build up the tension and scares on screen to fairly good results, I know I did. The first entry of the series is a classic of 80's low budget Horror fare. But what really lacks is the terrible third entry that followed. I will always enjoy Tenney's original film, and he is one great talent in the Horror game. Night of The Demons and this film proves it. Witchboard does have a semi decent cast, but you don't care for anyone really because they're not likeable, and in the end you're kind of happy that a few get wacked off. These are not a perfect film, but if you're the type to enjoy cheesy, fun horror films, then give this one a look. Witchboard is a worthy piece of Horror from the second half of the 80's and in the hands of director Kevin Tenney, it's a terrific little gem often dismissed and it shouldn't be.
Witchboard is a good creepy little 80's horror film. The movie was directed by Kevin S. Tenney, the same man who brought you "Night of the Demons". I remember being frightened when I saw this as a little kid, and even though not so much any more, this movie still has the tendency to creep you out. If you've seen Night of the Demons then you should already know, just like Witchboard, Kevin S. Tenney tends set the cheese factor at a very high level. Yes Witchbaord is cheesy, but it's done in such a way that makes the movie a very fun film to watch. Like Night of the Demons, Witchboard has many creepy elements that are thrown into mix. Right in between the corny humor and the dramatic acting lies a very chilling story to be told, which involves an even creepy character that goes by the name of Malfeitor. And don't expect any gore, although this is rated R this movie isn't about that. "Witchboard centers around Linda Brewster and the evil that befalls her whilst trying to communicate with the dead with a Ouija board. Linda falls under the seductive spell of the Ouija one night at a big party, and while her friend warns her to "never play with it alone", Linda does just that. She comes in contact with a spirit named "David" who claims to be the spirit of a seven year old boy, but in reality it is the spirit of an axe murderer named Malfeitor. Malfeitor starts to use his supernatural force to kill off all of Linda's acquaintances in a series of bizarre accidents. However, by the time that anybody realizes what the hell is going on, Malfeitor has already seized control of Linda's soul." Don't watch this movie and expect any top notch grade "A" film making. This is a semi low budget horror film that doesn't take it self as serious as you might think. The acting sometimes becomes over dramatic, but that's not to say that the acting is really bad. The acting is actually really good, and given the situations that are thrown into the story, the performances become quite believable. The humor in Witchboard, same as Night of the Demons, is subtle and quite cheesy but it's always very funny. Not "laugh out loud" humor, but still very funny. The good thing too was that the humor, or even the moments of dramatic acting, never really took away from the creep factor and as a matter of fact there are some truly chilling moments. Add to that a very creepy score and a very creepy character, Malfeitor, you got yourself an eerie little gem here. Witchboard is highly recommended! Watch this one alone at night.
jd cryptic
Super Reviewer
Anthony Valletta
Super Reviewer
Witchboard Quotes
| | |
| --- | --- |
| Jim Morar: | Damn I hate talking to ghosts with plaque on my teeth. (Brandon and Jim start laughing) - A little psychic humor. |
| Jim Morar: | Damn I hate talking to ghosts with plaque on my teeth. (Brandon and Jim start laughing) A little psychic humor. |
| Brandon Sinclair: | God why are we laughing? |
| Jim Morar: | It helps us forget how scared we are. |
| | |
| --- | --- |
| Jim Morar: | (at the cemetery with Brandon) - Look nobody's home. The place is locked up. |
| Jim Morar: | (at the cemetery with Brandon) Look nobody's home. The place is locked up. |
| Brandon Sinclair: | Oh damn it. I guess we're just gonna have to come back tomorrow. |