Witchboard 2: The Devil's Doorway
(1993)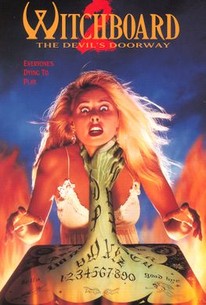 AUDIENCE SCORE
Critic Consensus: No consensus yet.
Witchboard 2: The Devil's Doorway Photos
Movie Info
A young woman living alone begins to be possessed by the spirit of a former resident through a Ouija board. Then, as we might guess, other residents start getting murdered.
Critic Reviews for Witchboard 2: The Devil's Doorway
There are no critic reviews yet for Witchboard 2: The Devil's Doorway. Keep checking Rotten Tomatoes for updates!
Audience Reviews for Witchboard 2: The Devil's Doorway
If you're a fan of the first Witchboard film, you may find this film not that bad as many people claimed it to be. I think it's pretty unfair that this film got a lot of flack, and many people say it's bad. I don't think it's a bad film, quite on the contrary, this is a very entertaining film to watch. The cast does a fairly good job too. This fine addition to the Witchboard saga, and is quite creepy and a well written sequel. It does have plenty of tricks to hold you in suspense till the film end. Although not the best in the series, this film still has plenty of good enough horror elements to appeal to fans of the genre. For a sequel, this is a pretty good attempt at delivering a sequel to the underrated Witchboard. One reason why this film succeeds is because of Kevin Tenney's directing. For a sequel, the devil's Doorway is pretty good considering. Todd Allen returns in a different role this time. There's some good ideas at work here, and the film does have good scares here and there. Definitely an entertaining sequel for fans of the first Witchboard. For a sequel, this is a well done film that is fun to watch. Although not as good as the first, this film still is very entertaining and if you've enjoyed the first, then you'll enjoy this one. Not perfect by any means, but much better than the dreadful final entry. Entertaining and fun, The Devil's Doorway is a fun ride from start to finish. A pretty good follow-up to the original film.
Another woman is haunted by bad spirits when she messes with a Ouiji board. It has a nice artist loft setting this time around. Just as thrilling as the first film. There's a bit of shock and gore, but nothing to write Fangoria about. It feels very Canadian. The chief girl (Ami Dolenz) is beautiful. There's an interesting showdown with the evil force at the end of the story. A mild dose of horror.
Lafe Fredbjornson
Super Reviewer
Witchboard 2: The Devil's Doorway Quotes
There are no approved quotes yet for this movie.