The Witches of Eastwick
(1987)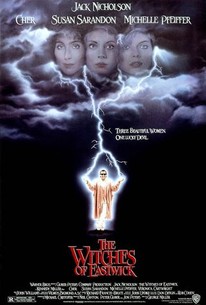 The Witches of Eastwick Photos
Movie Info
The Witches of Eastwick, a memorable comedy with a dark edge, is based upon a novel by John Updike. On Thursday nights three female friends -- Alex (Cher), Sukie (Michelle Pfeiffer), and Jane (Susan Sarandon) -- meet to chug martinis, learn Chinese aphrodisiac cooking and lament the scarcity of eligible men. As they sit around, they fantasize about and describe their idea of the ideal male. Arriving in town the following day is Satan, disguised as mysterious stranger Darrell Van Horn (Jack Nicholson). One by one, Van Horne seduces each of the women. Then, strange things begin to happen. When the town matriarch Felicia (Veronica Cartwright) publicly denounces Van Horne, she sustains a nasty compound fracture. When she forces her editor husband to publish a story about Van Horne's sexual antics, Darrell gets his revenge with revoltingly large amounts of cherries. The women now see that they may be in danger and begin to plot their escape. ~ Linda Rasmussen, Rovi
News & Interviews for The Witches of Eastwick
Critic Reviews for The Witches of Eastwick
Audience Reviews for The Witches of Eastwick
½
Way ahead of its time, this film is so naughty, non-pc and bold in its feminism and criticism of conservatism you're sometimes wondering if you heard correctly. Nicholson probably never had more fun being as devilish as possible, but he ultimately finds his master in three strong women. The cherry stone scene is outrageous and the showdown pretty damn crazy too. Highly amusing and has aged pretty decently! Made me fall in love with Michelle Pfeiffer all over again.
½
2018 rewatch. Has not aged too well. Still enjoyable
Nicki Marie
Super Reviewer
½
Three headstrong single women in idyllic Eastwick wish for their dream beaux, and a devilish new stranger comes to town to seduce them in turn. Cher, Sarandon, and Pfeiffer are brassy, sensual, and sweet, respectively, and Jack Nicholson is the epitome of the diabolical wag. Daryl van Horne spouts some base misogyny, which has the potential to be clever and satirical if only there were some wink at the audience. The trio of women gets their revenge through sorcery, but they still raise Daryl's lovechildren and treat him as merely an exasperating, absentee father rather than quashing his sacrilegious doctrine, defeating him for good, or at least spurning him for the Satan proxy he is. Upon learning that this movie was adapted from a novel by John Updike, a writer I admire, I expected the hijinx to lead to something deeper. Is Daryl a Satan proxy or a God proxy? Daryl rants about how he gave the girls everything, and then when they forsake him, he will seek retribution. Isn't that the depiction of a vengeful and wrathful God? Is the satire on how often godliness and wickedness coincide? Well, apparently the original novel was intended as a feminist manifesto (even though the women are represented as actual witches), but there isn't much in the way of theological commentary, so I don't know what to make of book or film.
Alice Shen
Super Reviewer
The Witches of Eastwick Quotes
There are no approved quotes yet for this movie.