Witching and Bitching
(2014)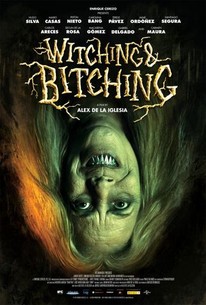 TOMATOMETER
AUDIENCE SCORE
Critic Consensus: Dark, nasty, and delightfully subversive, Witching and Bitching is gross-out genre fun with a heaping helping of warped comedy for good measure.
Witching and Bitching Photos
Movie Info
When your marriage has you on the brink and your bank account in red, it's time to rob a Cash-for-Gold shop. That's the last-ditch decision made by a group of desperate guys led by divorced dad JOSÉ. They make it out of the shop with a bag full of 25,000 gold wedding rings and flag down a cab. So do they run south to Morocco? Not easy getting through with a cab... Looks like it's north to France. The guys enter the impenetrable forests of Basque Country, home to ancient covens and witchery. They run head-on with a horde of crazed women who feed on human flesh. Trapped in a mysterious mansion, the witches try to seize the rings at all cost and to rip out our heroes' souls to boot. (c) Film Factory
News & Interviews for Witching and Bitching
Critic Reviews for Witching and Bitching
Audience Reviews for Witching and Bitching
½
Incredibly unique and subversive Spanish horror-comedy that adds a new and clever twist to the battle of the sexes. It's certainly a subversive examination of how men and women interact with each other and all the baggage that comes with that. But, at the same time, this film offers such an entertaining package. It's not so much a horror film as it takes and mixes several genres, including horror, black humor, satire, violence, etc, into one insane whole. This isn't unfamiliar territory, thematically at least, for Alex De La Iglesia, so he's clearly the one person you would want to helm a picture like this. Granted, he also had a hand in developing the script, so his trademarks are all over the place. What I like about the film is that while it's a subversive satire about gender relations, is the fact that the film makes absolutely no qualms about what it is. It has no delusions of grandeur, but it does know that its energetic pace and hilarious dark comedy will get it farther than most. This is a midnight movie that's not ashamed to be seen as one. It's exceptionally well-made, the film is a visual feast. It would almost have to be since the film, while smart and unique, is longer than it should've been, probably by about 10 or so minutes. So the scripting can sometimes come across a little bit thin and, to some people, the film may play its idea out sooner rather later. The film certainly mixes various genres together, but it's all dark, violent, and sexual. That can be tiring to some people. But I'm not really gonna complain because I found this film to be an absolute blast. I had so much fun watching this movie. It's one of those movies where I would have no problem watching it once every year around this time. The cast clearly had a blast even if the material could be considered, by some, to be taboo and in some cases blasphemous. But, I believe, that great comedy finds a way to push the boundaries of good taste. That's not always true, but it's true in Alex De La Iglesia's films. The further he pushes his films into what some would consider poor taste then the better they are. This film is no different, it's often a very hilarious film. It's missing something, but I did have a great time watching this film. I greatly recommend it if you're a genre fan, if you like light, fluffy, and agreeable comedies, then this is definitely not for you.
Jesse Ortega
Super Reviewer
Witching and Bitching Quotes
There are no approved quotes yet for this movie.