Without a Paddle
(2004)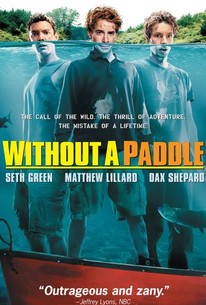 Movie Info
Just as the old saying goes, a trio of hapless city-dwelling friends (Seth Green, Matthew Lillard, and Dax Shepard) find themselves spiraling out of control up a very brown river in this raucous comedy from Little Nicky director Steven Brill. Heading out for a weekend canoe trip in search of an elusive 200,000-dollar treasure, the trio must contend with everything from raging rapids to backwoods mountain men if they're ever going to uncover the secret of the missing booty.
Critic Reviews for Without a Paddle
Audience Reviews for Without a Paddle
½
Jerry Conlaine: I dont have to out-run the bear, I just have to out-run you. "The Call of the Wild. The Thrill of Adventure. The Mistake of a Lifetime." I'll always have a sort of soft spot in my heart for Without a Paddle. I've seen it many times and as a young 11 or 12 year old, I cane even admit I liked it. Now, I see it for what it is; just another bad, buddy adventure movie. Still there's a certain amount of enjoyment that I get from the film. Mostly because I love the nostalgia aspect of the movie, and how it orchestrates its plot around Deliverance. Matthew Lilliard, Seth Green, and a really cool soundtrack make the whole thing go down a lot easier as well. Three lifelong friends who are entering their thirties are called away to a funeral of one of their best friends. While there, they learn that Billy had gone back and completed a trip that the four of them had always wanted to go on. The trip is one that would take them on a treasure hunt through the backwoods of Oregon, looking for a criminal named D.B. Cooper's, loot. When they go on the trip, things quickly turn from fun and nostalgic to dangerous and life threatening. There's always a slapstick and lite feel to the film no matter where the plot developments take the characters. Overall, this movie takes a lot of shit that I'm just not willing to throw at it. Sure it's a bad movie, and that's worth noting, but it isn't so bad that it needs to be completely crucified. There's elements I like that make up for a lot of the really terrible stuff going on. It's worth a watch if you have absolutely nothing else going on at the time. Just don't expect anything good. It's a weird movie in that I like it more than I should, while simultaneously still disliking it. 
Melvin White
Super Reviewer
Comedic version of Deliverance where three childhood friends set out into the woodlands of America to search for a lost briefcase filled with money. The film is actually light on humour and high on sentiment. The themes are hammered into us, and are actually just spoken out loud. "Life, that IS the treasure". Despite this, when it is funny it gets some big laughs. All the scenes are episodic, with the trio meeting a threatening bear, some hillbillies, a mountain man, and some hippies in a tree. The film relies too much on the men being uncomfortable with homosexuality. Burt Reynolds shows up to pay homage to Deliverance, but doesn't completely embarrass himself or shame the film. Perhaps the wig and make-up helped. I'm always going to laugh at stoned animals so it had that going for it. The locations were often stunning, which helped in the long pauses between jokes. Quick and enjoyable, it never really angered me and it kept me interested.
Luke Baldock
Super Reviewer
½
Avoid this blarney ... unless some alien invasion or nuclear cataclysm leaves you helplessly trapped and stranded in a well stocked coffeeshop in Amsterdam. That's about the only way that it won't feel like a complete waste of time.
Kevin M. Williams
Super Reviewer
Without a Paddle Quotes
There are no approved quotes yet for this movie.