Without Warning (It Came Without Warning) (Alien Encounters)
(1980)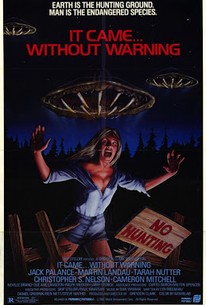 AUDIENCE SCORE
Critic Consensus: No consensus yet.
Movie Info
A group of teenagers head out to the lake for a relaxing camping trip in the mountains. They ignore the warnings of the local truck stop owner and head to their destination. Things go terribly wrong when they run into an extraterrestrial who throws deadly discs that suck the blood of their victims. The group heads back to the truck stop for help from the eclectic group of residents: a crazy war veteran (Martin Landau, Ed Wood) and a determined hunter (Jack Palance, Batman).
Critic Reviews for Without Warning (It Came Without Warning) (Alien Encounters)
Audience Reviews for Without Warning (It Came Without Warning) (Alien Encounters)
Without Warning is a terrific low budget sci fi horror film that was the precursor to Predator, and for what it is, it's a well made effort, one that will certainly delight horror hounds, and I won't Predator is better, as I believe that both films are wonderful pieces of horror in their own right. The gore are very well done, and this one of those obscured cult classics that should be rediscovered by fans as there is enough here to make this a worthwhile film going experience for viewers that enjoy a good, low budget horror picture. The film has its limitation of course, but what stands out here is that the filmmakers were able to pull off something quite good despite budgetary constraints and this is an effective chiller that is pure camp value, and a definite good time for viewers that enjoy forgotten gems. Without Warning is fairly simple in its concept, but what stands out here is the way that director Greydon Clark is able to pull so much using so little, and in a way that's the best way to craft a solid horror movie, keeping things simple in order to get your audience really into it. That approach worked well with this film, and it's a superb low budget cult horror film that I very much enjoyed. If you want a simple, yet engaging horror yarn, Without Warning is a standout feature for horror viewers that want something fun, gory and highly entertaining. Without Warning is a film that should be rediscovered, and to those that haven't seen it, be prepared for a riveting film that is well worth your time.
Without Warning (It Came Without Warning) (Alien Encounters) Quotes
There are no approved quotes yet for this movie.