Witless Protection
(2008)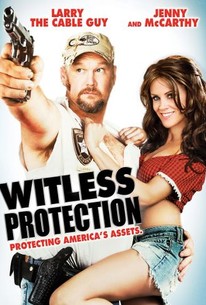 Witless Protection Photos
Movie Info
When a small-town sheriff (Larry the Cable Guy) witnesses what he believes to be an attempted kidnapping, his effort to save the beautiful damsel in distress sets him down a wild path of comic mishap. Eric Roberts, Yaphet Kotto, Peter Stormare, and Joe Mantegna co-star in a comedy from Red Water and Christmas Rush director Charles Robert Carner. ~ Jason Buchanan, Rovi
News & Interviews for Witless Protection
Critic Reviews for Witless Protection
Audience Reviews for Witless Protection
This movie was running on one of my channels, so I decided to watch it. I found it very difficult to sit through the entire movie because it was simply terrible. First of all, I'm not an American so I don't know much about Larry the Cable Guy. I haven't seen him in any movies or television series, and after watching this movie I wonder why he's so famous. He was not funny at all in this movie. Second, they show Jenny McCarthy on the poster as if she has a lot to do with this movie, she was probably on screen for about 5-10 minutes in total. They obviously put her on the poster to lure people to watch the movie. So I'd expect Jenny McCarthy fans to be quite disappointed with this feature. Witless Protection was witless and pointless. The movie was all over the place and I did not care much for any of the characters. I would not recommend my friends to watch this movie for any reason. Time would be better spent in any other place.
Naughtia Nahazhina
Super Reviewer
This is the first time I've ever agreed with the entire panel of critics on Flixster. Witless is right. I gave this movie the beneifit of the doubt because I love slapstick and Larry is pretty amusing on the "Blue Collar Comedy Tour". Larry did not transition well onto the big screen. When I think of redneck, slapstick, sweet and funny with the underdog as the hero, my mind immediately goes to Jim Varney's 'Ernest P. Worrell', whose shoes Larry or other rednecks or redneck wannabes, will never be able to fill. I can't be the only one who sees Larry's attempts to mirror the lovable hayseed, Ernest. There is the hat, the accent, the clothes, the stand-up comedy then moving over into movies. This movie has too much crude humor and disgusting bathroom jokes and there is no excuse for the racist comments, especially in a movie such as this. The(dare I say it?) plot was weaker than the pulse of a comatose patient.*(And I am not making light of people who have suffered or are suffering through this. I'm just making a reference to how terrible this movie was). "Witless Protection" has deterred me from watching any of the other Larry movies. I think it's best for him to stick to stand-up comedy, which does work better for him. I'm from the South and I think that Larry does give us a bad name. You can do comedy without making fun of other races, sexual orientation or using over the top sexual comments and bathroom humor(One fart joke will do, sometimes). Is this what has become of America? Have we really sunk so low that every ridiculous script/movie is greelighted just because of a t.v. personalities' previous work? A good stand-up comedian doesn't necessarily translate to a good movie actor. Some people have it. Some don't. Larry doesn't.
Stacy Avary
Super Reviewer
This is one of those slight-of-hand smart comedies, which explains why its target audience hated it so much. A lot of the stuff involves dumb gags, silly stereotypes, and the acting is not going to win any awards for comedy or otherwise. But it is all wound up into an enjoyable story and directed well enough that even Eric Roberts is able to handle his role. It also has enough complexity and subtlety to keep it interesting.
Steven Vincent Gee
Super Reviewer
Witless Protection Quotes