The Wolf Man
(1941)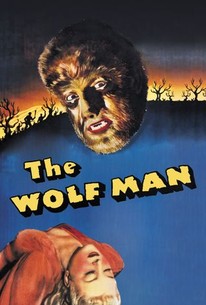 TOMATOMETER
AUDIENCE SCORE
Critic Consensus: A handsomely told tale with an affecting performance from Lon Chaney, Jr., The Wolf Man remains one of the classics of the Universal horror stable.
Movie Info
"Even a man who is pure at heart/And says his prayers by night/May become a wolf when the wolf-bane blooms/And the moon is full and bright." Upon first hearing these words, Larry Talbot (Lon Chaney) dismisses them as childish folderol. After all, this is the 20th Century; how can a human being turn into a werewolf? Talbot soon learns how when he attempts to rescue Jenny Williams (Fay Helm) from a nocturnal attack by a wolf. Collapsing, Talbot discovers upon reviving that Jenny is dead-and, lying by her side, is not the body of a beast, but of a gypsy named Bela (Bela Lugosi). The son of fortune teller Maleva (Maria Ouspenskaya), Bela was a lycanthrope, or "wolf man." And now that he has been bitten by Bela, Talbot is cursed to suffer the torments of the damned whenever the moon is full. Arguably the best of the "original" Universal horrors (original in the sense that it was not based on an existing literary property, a la Frankenstein, Dracula and The Invisible Man), The Wolf Man boasts one of the most stellar casts ever to grace a "B" picture: Lon Chaney Jr., Claude Rains, Evelyn Ankers, Ralph Bellamy, Warren William, Patric Knowles, Maria Ouspenskaya and Bela Lugosi. The man-to-wolf transformation sequences -- one of which took a full 24 hours to film -- are thoroughly convincing, thanks to the cosmetic genius of Jack P. Pierce (Chaney had wanted to emulate his father by developing his own werewolf makeup, but existing union rules would not permit this). Alas, after this powerhouse opening volley, the Wolf Man character was relegated to a series of cheap sequels, teaming him with other Universal shock stars: Frankenstein Meets the Wolfman (1943), House of Frankenstein (1944) and House of Dracula (1945). The final ignominy was Abbott and Costello Meet Frankenstein (1945), in which Lawrence Talbot (Chaney again), having been cured of lycanthropy in House of Dracula, reverts to his werewolf status -- and has to endure the one-liners of Lou Costello to boot! ~ Hal Erickson, Rovi
News & Interviews for The Wolf Man
Critic Reviews for The Wolf Man
Audience Reviews for The Wolf Man
By the early 1940's, Universal Studios has released many memorable monster films. One of its most memorable is The Wolf Man, a standout classic monster horror film with a great story and terrific cast. Lon Chaney is one of the most memorable actors in a monster film, and he is a defining actor in the genre, along such greats as Bela Lugosi and Boris Karloff. The film is simple in its story, but the impact of the picture still resonates till this day. If you love the classic Universal monsters, The Wolf Man is yet another fine film that has shaped the face of modern horror. Simple, yet effective, the film is very well directed and has some impressive special effects. In terms of filmmaking, The Wolf Man is an accomplishment in the cinematic medium, and features some of the riveting use of effects since the Invisible Man. Although this is not among my favorites of the Universal monsters, the Wolf man definitely has its place in the famous of cinema's monsters. Chaney is unforgettable in his performance and this is a movie that you shouldn't pass up. The film has a brooding, melancholic atmosphere and it adds to the enjoyment of the film to make it a bit unsettling for the viewer. The film isn't scary, but it keeps you entertained due to its story, and Chaney's performance. The film is quite short, but it is never dull or boring and it moves at a quick pace. If classic films are your cup of tea, and you enjoy horror, then give this genre classic a shot. Although not as great as others in the Universal Monsters, The Wolf man has a secured place nonetheless.
Here we have another introduction to a universal movie monster. The Wolf Man was made in 1941, ten years after the success of Frankenstein and Dracula and it stars Lon Chaney Jr as Larry Talbot/ The wolf man. Larry Talbot is just an ordinary guy who is bitten by a wolf while trying to save a helpless girl and he becomes the legendary wolf man. Lon Chaney Jr does such a great job in his role. AS Larry Talbot, he brings out the side of him who's haunted by what he's become and as a werewolf, all he has to do is just run around and growl and stuff, but he's still convincing. For the transformation scene, Chaney was required to stand still for countless hours while makeup was applied to him while the camera was still filming at times. It was all stop-motion and it still looks great to this day. What makes the werewolf scenes so great is the suspense and tension that's involved in them. The wolf man, like Dracula, has really big screen presence and you really do get a feel for the people who he stalks and attacks. The soundtrack for the movie is excellent; it does a really good job of providing suspense and there are even parts of it that sound like the score from 1989's Batman which is ironic because Danny Elman, the composer for Batman, did music for the 2010 remake of The Wolf Man. The thing that makes this movie stand out from the other monster movies is how much sympathy you have for Talbot. He has no control over becoming a werewolf and he wants to be normal, but he's cursed because he was dumb enough to try and save some dumb damsell in distress from a wolf. The climax for the film is also pretty emotional, but I won't spoil it. I also feel the need to mention that Bela Lugosi has a role in the movie. He's notablr for playing Dracula, but in this he plays a gypsy who's also a werewolf. It's always good to see Lugosi acting. I firmly believe that The Wolf Man has still stood the test of time and it's a must see for anyone who loves horror films. This movie, along with Frankenstein and Dracula are classic horror flicks that I have respect for since they have had a heavy influence on anything having to do with monsters and Halloween. Those three movies are all great and they deserve to be viewed more during October.
Tyler Robertson
Super Reviewer
½
Maleva: Whoever is bitten by a werewolf and lives becomes a werewolf himself.  "His hideous howl a dirge for death!" The Wolf Man is one of those must see horror classics for horror buffs. It'd early horror at its best. This may not have the same status as Frankenstein, but it is still an excellent classic in its own right. It's a lot of fun and has some really interesting performances, even though it times  in at a small hour and nine minutes. This isn't my favorite werewolf related movie, but it does deserve the most respect. It's the film we all look to when describing the werewolf movie, and everything after it, owes a lot to it. Movies like The Howling and An American Werewolf in Paris wouldn't exist without having The Wolf Man as a template.  Some things to take away from The Wolf Man is Lon Chaney Jr's performance outside of the Wolf Man, and also the way they used common psychology to deflect that he was actually a werewolf. I loved the interplay of people who actually thought that a man could be a wolf and others who thought that a man could create a wolf persona through all the paranoia. There's obviously a lot of things you could make fun of the film for in today's world. Like a lot of movies back then, there are moments of drama that are ruined by overacting. The werewolf looks horrible by today's standards. But on a whole, for a movie that was made in 1941; The Wolf Man really has stood the test of time. This is an endless classic that will be enjoyed by many more generations. This is a pretty important movie in my opinion. As a lover of the horror genre, I have a great deal of respect for the early classics, even if they can't possibly scare us 70 or 80 years later. It's just the fact that have inspired and thrilled audiences for that long. Plus, watching The Wolf Man was not a chore at all. I enjoyed every second of it, and when it was over, I couldn't help wishing it was longer. 
Melvin White
Super Reviewer
The Wolf Man Quotes
| | |
| --- | --- |
| Maleva: | â??Even a man who is pure of heart, and says his prayers by night, may become a wolf when the wolfbane blooms, and the autumn moon is bright.â?? |
| Maleva: | Even a man who is pure of heart, and says his prayers by night, may become a wolf when the wolfbane blooms, and the autumn moon is bright. |