Wolfen
(1981)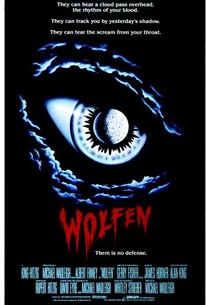 Movie Info
Based on the novel by Whitley Strieber, a wealthy land developer and his wife are viciously murdered in the South Bronx, and detective Dewey Wilson (Albert Finney) is assigned to the case. After more people turn up dead, Wilson meets up with some Native Americans who inform him of the nature of the creatures that are inhabiting the inner-city slums.
News & Interviews for Wolfen
Critic Reviews for Wolfen
Audience Reviews for Wolfen
Adapted from a novel of the same name, yet after a bit of reading the movie is quite different from the book. With a title like this you'd think this film was about werewolves, but you'd be wrong. In fact it kinda depends on what source you go by, the book is sort of about werewolves, a species of creature that are descended from wolves, intelligent and probably more like werewolves than in this film. In the movie there are no werewolves and no creatures descended from the wolf line. And there lies the problem with this movie, no werewolves. The plot is all about these mysterious murders in New York, bodies are turning up badly mutilated or half eaten and everyone knows there aren't any alligators in the sewers doing this so...what gives?! Fear not, along comes the most unlikely monster hunter in the form of Albert Finney to try and crack the case, with the help of his female partner and the plucky coroner played by Gregory Hines. Now this isn't a jokey action packed supernatural thriller, oh no, its actually a reasonably slow paced detective story as we follow Finney and co snooping around in the Bronx. For the most part its quite intriguing I can't deny, I had no clue who or what was actually killing these people. You're not so sure if its actually a supernatural beastie or just some looney tune, someone close to Finney perhaps. Without trying to give the game away it is disappointing how they go about this movie, the alterations they make. Like I said in the book there are actually genuine creatures on the prowl, here in the movie they substitute monsters for wolf spirits, or more accurately, Native American wolf spirits. I'm still not sure if these wolves were actually the Native American descendants Finney's character follows up on, these guys claim they are shapeshifters in the movie. Seeing as in the book the creatures are descendants of wolves, it makes sense in this movie that the wolf spirits on the loose are Native American descendants. It never really confirms this concept (I don't think) but I'm guessing the local Natives were the wolves, or they were able to summon them maybe. What really disappointed me was the fact the wolves actually did look like proper wolves, they actually used real wolves in the movie. This of course ties in with the new Native American angle they use, but I found it an anti-climax because I wanted to see something more terrifying, more of a monster, pack of monsters. The whole movie has this pretty decent eerie atmosphere going on showing us wolf POV, how they stalk their prey, their vision, how they attract prey by making ghostly baby noises etc...Then they merely turn out to be actual wolves that you can see in the zoo or where ever. I didn't find that scary, after all the great buildup, dark moody moments and horrific deaths...they just turn out to be actual wolves. Speaking of the wolf POV shots, well blow me down if John McTiernan didn't swipe ideas from this movie for 'Predator'. I kid you not! I have read this movie is notable for its early use of thermography/thermal imaging with the wolf vision sequences. You see these sequences and right away you know McTiernan probably pinched the idea for his Arnie vehicle, but jazzed it up a bit with bolder colours. Its these sequences that really add some spice to the wolf antics in the movie, mainly because for the most part you believe its a monster or werewolf and these sequences are darn effective conveying that. What's more I do firmly believe Alan Silvestri also pinched the musical score from this film for that particular Arnie vehicle! You listen to it throughout this film and its pretty obvious if you ask me, its nearly identical! All this time I thought McTiernan and co had spearheaded such an original franchise and material. Its certainly dated these days but the gore effects hold up well, very well actually. There's something a bit off about it all though, I guess the sight of these Native American fellas and their own little bar in downtown NY doesn't quite seem to fit in with the surroundings. I can't help but think the whole thing would have worked better in the wilderness or a smallish town out west, the sight of these wolves running around the city looks more out of place than scary really. Again the choice of Finney in the lead was an odd one if you ask me, he also doesn't quite fit into the NY surroundings. Its definitely an off-kilter movie and slightly misleading at the same time, the book does sound much better and more of what you'd expect.
Phil Hubbs
Super Reviewer
½
Wolfen has a cool opening and that's about it. None of the originality and shock value that the first five minutes can be reproduced at all in the two hours that follow. Mostly, the movie just contains a ridiculous amount of semi infrared shots that make no sense; supposedly being how these mutant wolves see. Why any viewer needed to be exposed to so much of this lame wolf vision is beyond me. The story is just uninteresting and the ending is so obvious and lame. Albert Finney had no business being in such a b-level movie, surrounded with d-level stars. I think the biggest misconception with this movie is that it's a true werewolf movie; in no way is this even close to being part of the genre. I hate to pick on this movie so much, but there was basically nothing redeeming about it. It fails as a horror movie, a thriller, cop drama, and funnily enough as an urbanization politics piece. There's no noteworthy moments aside from the opening, which isn't worth it in the end.
Conner Rainwater
Super Reviewer
½
A strange, confusing, stupid werewolf movie, I hated it.
Wolfen Quotes
There are no approved quotes yet for this movie.