X-Men Origins - Wolverine
(2009)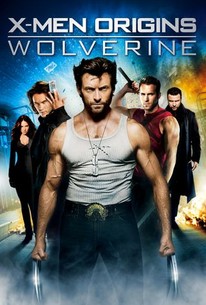 TOMATOMETER
AUDIENCE SCORE
Critic Consensus: Though Hugh Jackman gives his all, he can't help X-Men Origins: Wolverine overcome a cliche-ridden script and familiar narrative.
X-Men Origins - Wolverine Videos
X-Men Origins - Wolverine Photos
Movie Info
The gruff, adamantium-clawed Marvel superhero Wolverine strikes out on his own in this X-Men spin-off starring series regular Hugh Jackman. The story gets under way as the boy who will become Wolverine makes a shocking discovery about his family bloodline, and gains a brother in the process. Flash forward to find the mutant siblings battling side by side through two world wars and Vietnam -- where they are sentenced to death for killing a commanding officer -- and Logan (Hugh Jackman) and his brother, Victor Creed (aka Sabretooth, played by Liev Schreiber), have joined a top-secret government task force. When their targets begin to include innocent civilians, conscientious Logan escapes to the Canadian Rockies, where he builds a home with pretty schoolteacher Kayla Silverfox (Lynn Collins). Informed by his old commanding officer William Stryker (Danny Huston) that the members of his old team are being targeted for death, Logan is heartbroken when Victor finds and kills Kayla. Vowing revenge, Logan agrees to take part in a dangerous experiment that will fuse his bones with a powerful metal alloy called adamantium, which makes him virtually indestructible and gives him the strength needed to defeat his powerful brother. Subsequently betrayed by Stryker, Logan (now Wolverine) sets out to find his blood-lusting brother and stop the cycle of violence once and for all. Along the way, the temperamental hero is joined by fellow mutants John Wraith (Will.i.Am) and Remy LeBeau (aka Gambit, played by Taylor Kitsch). But before Wolverine can seek vengeance against Striker and his brother, he'll have to do battle with Deadpool (Ryan Reynolds) a formidable mutant instilled with many powers. ~ Jason Buchanan, Rovi
Critic Reviews for X-Men Origins - Wolverine
Audience Reviews for X-Men Origins - Wolverine
½
The worst installment of the highly regarded franchise to date, Wolverine is a mess of an action film with a retread plot. Hugh Jackman is still really good like always, but many of the newcomers are lacking when compared to the other installments. Focusing on just Wolverine takes out too much of the fun of the other films. It just doesn't feel the same and when you change elements of a successful franchise you have to replace them with something worthwhile. That was the biggest mistake. This is not worth the time.
Josh Lewis
Super Reviewer
½
Mkay so after the semi successful X-Men trilogy came this origins tale (prequel) which was originally also gonna carry on with Magneto and Professor X...I believe. We all know how that turned out though, I think the idea of yet more origin tales was perhaps a bit daunting for everyone. So the movie is about Wolverine's origins but that is a bit of lie really, its mainly about one period in his life. At the start we see Logan as a child and how he befriends Creed, fast forward through the ages we then see the pair fighting in most of the biggest wars such as the American Civil War, WWI, WWII and Vietnam where Creed kills an Officer. The pair are then executed by firing squad? did that happen to US troops in Nam? Anyway its only then that the outside world finally notices these two blokes have been alive for over a century, I still think that would get noticed as time pasted by and we approached the modern era. The funny thing is the movie skips past all this information but it looks way more interesting and fun than what we actually get. I'd love to see Creed and Logan fighting in WWI/WWII and Nam. Moving on we see Stryker hiring the pair to join his Team X which is easily the coolest part of the film with the most potential yet alas it is lost. The team isn't the same as the comic source material but I guess that is a given, my main issue was the fact that only Agent Zero and Wade Wilson are given anything to do. The other issue being that both of those characters come across as so powerful that I found myself asking why you would need the other guys! hell both Zero and Wilson wiped out everybody single handed without breaking a sweat. Oh and did anyone else notice how the entire team just strides down the middle of a street up to the enemy stockade?! aren't they suppose to be some kind of special ops unit?? stealth anyone???!!! Eventually the plot takes us to Logan's most iconic bit of backstory surrounding the reinforcement of his skeleton with Adamantium. Now this entire section makes no sense and is the most cliched movie crapola ever...well that and the few times we see characters screaming into the sky with rage as the camera zooms away from their face. Firstly Stryker and his military/scientist buddies all want to create a superhuman/mutant with this experiment. They have spent millions upon millions funding it...and it works! No sooner have they managed to achieve their highly expensive goal Wolverine breaks free and escapes...of course. Because every test subject always manages to break free and run off endangering everyone (if its a monster). What is hilarious is the fact that Stryker immediately orders Wolverines execution the minute he escapes! you just achieved what you set out to do and now you're trying to destroy it!! Plus you deliberately made Logan invincible so how the fuck do you expect to take him down?! I mean really...if you're gonna make someone (especially a powerful mutant) invincible don't you think that might cause you problems further down the road if you lose control of him...errr hello? [i]'Hunt him down, take his head off'[/i]...errm you just said he was invulnerable, how do you plan on managing this?...why are you shooting at him Zero? (jackass). From here on it became uncomfortable as we see a nice old couple get needlessly killed (and blown up!) after they help Wolverine and we the audience start to warm up to them in a Pa and Ma Kent type way. It seems that was merely in there so Logan could pick up his natty leather jacket...yet I also find myself wondering how the fuck Zero and co actually found him there anyway. Its also at this time you start to notice the CGI effects are pretty naff truth be told. The now infamous cartoon-esque Adamantium claws which are somehow smooth like blades even though they are covering knobbly bone claws. There is also some pretty horrendous greenscreen effects that stand out badly such as Jackman on the motorbike and the helicopter gun pilot. Everything naturally leads up to a big climatic battle between Creed Logan and Wade Wilson/Deadpool which for some unknown reason takes place on top of a huge cooling tower. In between all this Gambit pops up for again no real apparent reason other than to please the fanboys. He's clearly a real card shark when we first meet him so I literately have no idea how he would find anyone dumb enough to play cards with him but I digress. At least Gambit is Gambit...Deadpool or Weapon XI is pretty much an abomination frankly, I'm not totally up on this characters lore but they really fucked with it right here, dude looks like a Mortal Kombat character. Also why exactly is Stryker wanting to make Weapon XI? surely Logan and Creed are virtually indestructible as they are, why the need to create this uber mutant who will obviously be too powerful to control. Its so daft and a horribly bad bad guy plot cliche. When I first saw this movie I quite liked it but now I can see where the many flaws lie. It tries to be a sensible gritty superhero movie but is actually a very cheesy predictable and hokey action movie with all the regular cliches. I think Hood forgot that his superhero flick was a prequel and is suppose to be set in the 70's (I think it is) because the general technology on display is way too good for that era. There are some nice points without a doubt, some good effects and some good visual moments that capture what we all know and love about Marvel. Unfortunately overall it all looks a bit artificial and actually poor in places, it doesn't even feel like a Wolverine origins story but more like another X-Men installment.
Phil Hubbs
Super Reviewer
the entire film worked incredibly well for me until the final act, which fell so flat that it left me feeling that the film as a whole lacked the direction that seemed to build well in the first two thirds of the movie. it wasnt just one or two things, but rather the entirety of the final act that took a wrong turn from the art direction, to the motivation of the characters, to the script itself. Entertaining but overall pretty bad.
X-Men Origins - Wolverine Quotes
| | |
| --- | --- |
| Logan/Wolverine: | Okay shithead, here's the deal. You see, you're gonna take me to this "island." And I can kill Creed, Stryker, and pretty much anyone that you hate in this world. You understand? |
| Logan/Wolverine: | Okay shithead, here's the deal. You see, you're gonna take me to this island and I can kill Creed, Stryker, and pretty much anyone that you hate in this world. You understand? |
| Remy LeBeau/Gambit: | You really gonna kill them? |
| Logan/Wolverine: | As long as you stay outta my way, yeah. |
| Remy LeBeau/Gambit: | Well why didn't you say so? |
| | |
| --- | --- |
| John Wraith: | [Motioning to Remy LeBeau] There's our dude. [Sees him shuffle cards and toss them in a stylish way] That's cool! [To Logan] I'll go cover the back in case he rabbits. |
| Logan/Wolverine: | I'm not gonna fight with him! |