The Woman in the Window
(1944)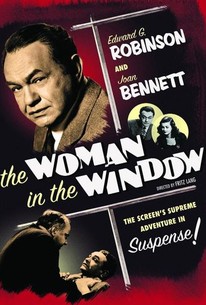 The Woman in the Window Photos
Movie Info
Edward G. Robinson stars as a happily married psychology professor whose wife and child are away on summer vacation. After discussing with his friends the likelihood that any man can be driven to murder, Robinson strolls by a shop window, where stands a full-length portrait of a beautiful woman. He turns to find the selfsame woman (Joan Bennett) standing beside him...and before the night is over, he has killed the woman's lover in self-defense. Thus begins weaving an increasing tangled web involving Robinson, the woman, and a seedy blackmailer (Dan Duryea). Based on J.H. Wallis' novel Once Off Guard, The Woman in the Window gives us our money's worth with not one but two logical and satisfying surprise twists at the end.
Critic Reviews for The Woman in the Window
Audience Reviews for The Woman in the Window
½
Lang directs this solid film noir with intelligence, building tension without hurry and relying mostly on a clever script full of nuances, an inspired dialogue and great performances, even if he disappoints with a conservative ending that feels more like a cheap cop out.
Carlos Magalhães
Super Reviewer
½
Fritz Lang's "The Woman in the Window" is a reasonably good but second-rate film noir, starring Edward G. Robinson and Joan Bennett. It's hard to believe that the same man directed this and 1927's "Metropolis." "The Woman in the Window" isn't terrible, but it almost completely lacks ingenuity. The cinematography is uninteresting, the sets and costumes run-of-the-mill, and the story rather thin. But it does hold one's interest, and there are moments of real tension. Robinson plays a college professor who specializes in criminal psychology. He gets wrapped up in a murder with a woman (Bennett) he meets on the street late at night. It is fun to watch them try to cover it up. But the twists and turns are pretty much what you'd expect from a B picture. There's also a tremendously lame twist ending built to make the film palatable to a Disney audience. I suppose Lang was pushed by the studio to end it this way. But it's still lame of Lang to have given in. He should have pushed back harder. It seems clear that in this period Lang cared more about earning his salary than making true cinema. From world-famous artist to studio hack in 20 years. What a disappointment. Lang was an Austrian Jew who fled the Nazis and ended up in Hollywood. Another Austrian Jew who did the same was Billy Wilder. While Lang's creative period was over, Wilder's was just beginning. By coincidence, Wilder also directed a film noir in 1944: "Double Indemnity," starring Barbara Stanwyck. If you want to see first-rate film noir, skip Lang's film and watch Wilder's.
William Dunmyer
Super Reviewer
½
This is a more intense version of Scarlett Street, and I can't decide which one I like better, but they have such similar plots, I get them mixed up.
The Woman in the Window Quotes
There are no approved quotes yet for this movie.