A Woman Under the Influence
(1975)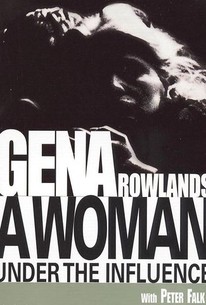 TOMATOMETER
AUDIENCE SCORE
Critic Consensus: Electrified by searing performances from Gena Rowlands and Peter Falk, A Woman Under the Influence finds pioneering independent filmmaker John Cassavetes working at his artistic peak.
A Woman Under the Influence Photos
Movie Info
John Cassavetes' A Woman Under the Influence is about a housewife (Gena Rowlands) on the brink of insanity and her blue-collar husband (Peter Falk) who attempts to understand her plight, but often becomes violently frustrated with her illness.
News & Interviews for A Woman Under the Influence
Critic Reviews for A Woman Under the Influence
Audience Reviews for A Woman Under the Influence
½
One cannot be a fan of independent cinema without acknowledging the contributions of John Cassavetes. A Woman Under the Influence, arguably his best film, sees the humanistic auteur at the top of his game (observant camera work, extending shots to pick up his characters' idiosyncrasies, mixing and matching shot scales and eye lines, etc.). I love his style of filmmaking, but if there's one criticism, it's that he can times be so observational that it allows room for viewers to misunderstand the point. This film is a perfect example of that. I didn't believe we are meant to wonder who is "crazier," Mabel (played by the truly brilliant Gena Rowlands) or her husband (a terrific Peter Falk). Cassavetes makes a strong, bold (and rarely voiced) point...it is the trappings of contemporary life that makes us on the verge of insanity. Mabel loves her children, loves to dance and sing -- and for that she is committed. Her "unidentified mental illness" seems to intensify when her husband mistreats and was physically and verbally abuses her (in my opinion, going a bit crazy after someone slaps you is probably healthier and saner than being polite, demure, and rational). Mabel loves life, shows her love without apology, and is severely punished for it. Everyone else in the movie struggles to calm everyone down and avoid showing too much emotion. While this may be more socially acceptable it isn't sane or even healthy. Humans are emotional beings, and this hallow societal expectation of Cassavetes tips his hand and proves his point when Mabel comes home from the institution. She hasn't seen her children, husband, and family for 6 months and people assault her, some she has never even met, before she even leaves the car. When she does get inside the safety of her own home the people who put her away and told to forget the past greet her with small talk and politeness. Then when she finally sees her children after being told to "wait a minute" she says to herself that she wants to remain calm and show "no emotions." It seems obvious that this is a perfectly acceptable time to be emotional but fresh from the institution she know being normal doesn't allow you to be emotional. Emotions are scary, messy, and inconvenient and I for one am thrilled that John Cassavetes shed such a great light on these ideas. It's a bold, original film in every sense of the word, and it does what all good cinema does: it makes you think about your relationship to the world.
Jonathan Hutchings
Super Reviewer
Two of the best performances I've ever seen. Gena Rowlands makes you fall in love with her and feel sorry for her. Peter Falk is great as the rough man who tries to cope with his wife losing her mind. The scene with Falk sitting in the back of a pick up truck sharing a beer with his kids is priceless.
Graham Jones
Super Reviewer
½
a devastating film containing one of the bravest performances ever seen, for which gena rowlands is justly celebrated, overshadowing the fine work of her costar. peter falk is completely natural as the frustrated blue collar husband trying to deal with his emotionally fragile and increasingly eccentric wife. the film goes places no one else dared, exhibiting the rawest possible emotions and investigating every corner of the family's life. peter falk may be best remembered as the rumpled detective columbo but he did some wonderful work for cassavettes among others.
Stella Dallas
Super Reviewer
A Woman Under the Influence Quotes