Una Mujer sin amor (A Woman Without Love)
(1951)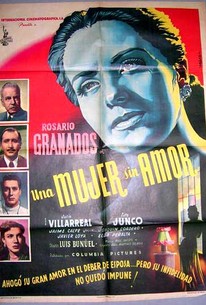 AUDIENCE SCORE
Critic Consensus: No consensus yet.
Movie Info
A comparatively conventional Luis Bunuel effort, the Mexican Woman Without Love is based on a short story by Guy de Maupassant. Rosario Granados plays a young wife, Rosario Montero. Ignored by her wealthy art dealer husband, Don Carlos (Julio Villarreal) -- who is many years her senior -- Rosario enters into an affair with an engineer, Julio Mistral (Tito Junco), by whom she becomes pregnant. Immediately after Rosario conceives, Don Carlos grows seriously ill, and Rosario is thus forced to abandon the affair and take care of him; she passes off her newborn as her husband's child. Two decades pass; Julio dies, leaving his fortune to Don Carlos. This stirs up all kinds of trouble, including suspicions among the now-grown Montero children of their mother's onetime infidelity, and consequent feelings of filial bitterness and hostility. The strains are too great for everyone to bear and the family slowly unravels. The anti-clerical strain in Woman without Love is not as pronounced as the anti-establishment theme, but it's there for those familiar with Bunuel's "code words" and imagery. ~ Hal Erickson, Rovi
Critic Reviews for Una Mujer sin amor (A Woman Without Love)
All Critics (3) | Top Critics (2) | Fresh (3) | Rotten (0)
Though arguably Buñuel's "worst" film, A Woman Without Love is a perfectly routine melodrama that most directors would be happy to call their "best" film.

Another relatively unseen film from Luis Buñuel's Mexican period.
January 1, 2000

A decent film but without the acclaimed filmmaker's usual surrealism, as it had more commercial aspirations than most of his films.
Audience Reviews for Una Mujer sin amor (A Woman Without Love)
"A Woman Without Love" is certainly one of Luis Bunuel's least characteristic films. Minus some cynicism about the temptations of beautiful women, this soppy melodrama is virtually untouched by Bunuel's usual trademarks.Based on a Guy de Maupassant short story, the tale focuses on a young woman who has put financial security before love and married an older, somewhat boorish doctor. They have a son, and his behavior problems inadvertently bring together his mother and a kind, handsome forester. The two have an intense but secret romance which is only revealed decades later, when the lover dies and chooses a puzzling heir for his fortune.The filmmaking is surprisingly polished and commercial, with a soap opera's predictable connections between emotional scenes and a swelling, cornball soundtrack. Cliched moments such as tearing up someone's picture in anger and dramatically timed heart attacks are bound to cause eyerolls.Sad to say, Bunuel completism is the only reason to see this thoroughly unremarkable film.
Eric Broome
Super Reviewer
½
[font=Century Gothic]In "A Woman without Love," Rosario(Rosario Granados) is trapped in a loveless marriage to Carlos(Julio Villarreal), a much older man. When their son Carlitos(Jaime Calpe) is accused of theft by his school, he is locked in a room without his dinner by his father. Stung by his father's anger, he runs away and Carlos presumes he could not have gone far. However, Carlitos is more resourceful than initially thought and he makes it to a forest where he is found by Julio(Tito Junco) who returns him with the eternal gratitude of his parents. In time, Julio and Rosario begin an affair but she cannot follow him to Brazil, in order to take of her ailing husband.[/font] [font=Century Gothic]On the surface, "A Woman without Love" may seem like just another vapid soap opera and an unsatisfying ending does nothing to dispel this. But I think director Luis Bunuel has more on his mind than that and tells a story where the traditional past gives way to a modern future. At the beginning of the film, Rosario is married to a man she does not love and who sells antiques. As time goes on, there is a marriage for love and, of special interest, one of the women is a doctor.[/font]
Una Mujer sin amor (A Woman Without Love) Quotes
There are no approved quotes yet for this movie.