Women in Trouble
(2009)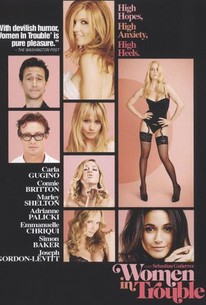 TOMATOMETER
AUDIENCE SCORE
Critic Consensus: Sebastian Gutierrez certainly has an eye for the beauty of the female form, but Women in Trouble lacks a compelling script or point of view to go with its curvaceous visual appeal.
Movie Info
Filmmaker Sebastian Gutierrez writes and directs this ensemble comedy following ten Los Angeles women over the course of 24 hours. When porn starlet Electra Luxx (Carla Gugino) discovers that she's pregnant, her wild world of pleasure and excess is suddenly turned upside down. Subsequently stuck in an elevator with neurotic Doris (Connie Britton), Electra realizes she's standing at a pivotal crossroads in life. Meanwhile, adult film up-and-comer Holly Rocket (Adrianne Palicki) struggles with her reluctance to go girl-on-girl in front of the cameras by putting on a private show with her sexy friend Bambi (Emmanuelle Chriqui), a therapist (Sarah Clarke) turns to the bottle after discovering her husband has been unfaithful, a flight attendant (Marley Shelton) applies for membership in the Mile High Club with a famous passenger, and a precocious teen (Isabella Gutierrez) realizes that the adults in her life aren't nearly as well adjusted as they'd like her to believe.
Critic Reviews for Women in Trouble
Audience Reviews for Women in Trouble
High Hopes, High Anxiety, High Heels. Good movie! The film makes you laugh much more than expected, but keeps its heart in the midst of all the appropriately titled trouble. It's too real to just become a comedy or a tragedy or a drama, this film is an intoxicating blur of emotions. This movie basically ends up being about womanly camaraderie, and the bond that ties all women in all walks of life together, I think. However, it's also got enough sex talk, women in underwear, zany situations, and even a degree of bathroom humor, that'll keep guys interested. PS. Keep watching after the credits. There's a cute little satirical interview with the "porn stars", conducted by Joseph Gordon-Levitt. It's not quite up to the level of the material in the rest of the movie, but still worth watching. Several women (and one girl) in L.A. are hiding something from someone else, or discovering something hidden from them. Maxine, a therapist, discovers her husband cheating on her with the mother of Charlotte, a 13-year old patient. Addy (the other woman) and her sister Doris have withheld from the girl the truth of her parentage. Holly, an adult film actor, isn't telling her friend Bambi how she feels about her, and another actor, Elektra, who discovers she's pregnant, hasn't told the baby's father that she loves him. A stuck elevator, a car crash, mid-air turbulence, a flight attendant, a shotgun-wielding bartender, and her roommate, who's a masseuse, help these women communicate.
½
It's like the vagina monologues, but sexualized. This has an ensemble of bombshells looking and acting hot. I would say there's a problem here, but it's done so shamelessly that you kind've just go with it. The sense of humor is really unique and I liked the change of pace. The stories and characters are allowed to shine, due to the structure. This is made with the best intentions, to be fun and not take itself too seriously.
Conner Rainwater
Super Reviewer
½
FULL DISCLOSURE: I freely admit that the only reason I wanted to see Women in Trouble was because of the incredible number of blindingly hot women that are in it. Carla Gugino, Marley Shelton, Emmanuelle Chriqui, Adrianne Palicki, Cameron Richardson...do I really need to continue? I had little interest in whatever the movie was supposed to be "about", per se, I just wanted to see the hotties. And they did deliver the goods. But this is a review, so I guess I have to talk about something more than how hot the women were. This is one of those kinds of ensemble movies where the numerous characters are directly and indirectly connected. It's certainly not up to the quality of a movie like Magnolia, not even close. The comedic elements work sometimes, and sometimes they don't. The dramatic portions are the same way. I guess the best way to describe Women in Trouble, is three Lifetime movies mixed with a rather tame Cinemax skin flick and a really disturbing bestiality story. If that weird mix sounds great to you, then you'll love this. Everyone else should just tune out the talky bits and ogle these gorgeous women.
Women in Trouble Quotes
There are no approved quotes yet for this movie.